Cheapest Bike Sharing in Singapore for March 2018 | Ofo Bike vs Obike vs Mobike vs The rest
To view latest offer and which one is the cheapest Bike Sharing provider in Singapore, do visit: https://www.jilaxzone.com/?s=bike+sharing
We are now in March 2018 and the bike sharing competition here in Singapore from the big 3 bike sharing providers: Ofo Bike, Obike and Mobike – does not show any moments of cooling down but instead heating up!
Here are their offers for March 2018:
Ofo Bike: 60 days $1.50
Obike: 30 days $5
Mobike: 90 days $3
And the cheapest goes to…
This month cheapest bike sharing rental goes to Ofo Bike. For the 2nd month, Ofo Bike can still hold its cheapest bike sharing title here in Singapore.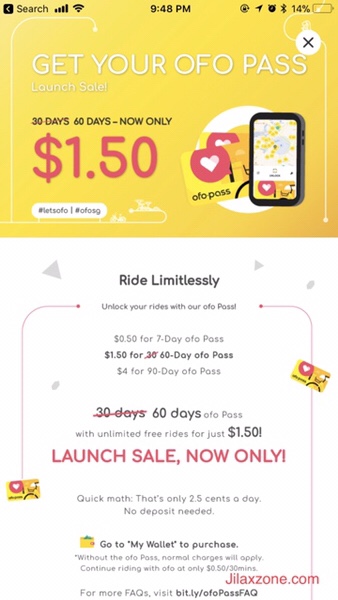 Reason being:
Ofo Bike which last month came out with unbeatable promotion, $1.50 for unlimited rides for 60 days is still continuing its promotion. $1.50 for 60 days means 2.5 cents/day. And what make things even better is that no deposit needed.
In case you haven't installed the app, do first install the app. Links provided below. You need to first have the app in order to use/rent the bike.
Once you installed, find the bike and open the app. Scan the QR Code found on the bike to begin rent your bike.
Here's the download links:



Alternatively, if you can't use above links to download the app, use the one below:
Android: here is the download link.
iOS: here is the download link.
So what are you waiting for?
Go get it while promotion last.
---
Find more interesting articles like you just read on:https://jilaxzone.com
---
Hi, thanks for reading my article. I do spend my time and efforts writing this article based on my own experiences for my own journal as well as to share the knowledge to whoever read it so hopefully they can get the benefit out of it
If you find and feel this article is good and helping you in anyway, help me to spread the words by sharing this article to your family, friends, acquaintances so all this goodness, my spent time and efforts do not just stop at you, they will also get the same goodness and benefit from it.
Thank you!