I'm updating my PC to Windows 11 today and here's how you can update yours too (Detailed steps inside!)
Windows 11 is coming! From the look that Microsoft gave, the new OS looks gorgeous and come with plenty of new exciting features. Unfortunately, at the time this article is written, Windows 11 is scheduled to be released only later this year, perhaps towards the end of 2021. But fortunately enough, Microsoft has the official way for people who can't wait for Windows 11 to give a try, via Windows Insider Program. When you joined the program, you can download, install and give Windows 11 Insider Preview a try yourself – all is official, legal and free. In this article, I'll show you the detailed step by step on how you can get Windows 11 Insider Preview and have it installed on your PC.
This article detailed the steps on how you can upgrade your PC to Windows 11 Insider Preview.
In case you have queries, post them on the comment section below.
For other interesting articles, head to: Windows, Android, iOS, Games and Gaming, Tech, FREE Games and Stuffs and more on JILAXZONE.
If you find this article / content inside is already obsolete, do let me know by commenting on the comment section below so that I can update the article to reflect the latest process/news. Thanks.
---
Prerequisites before installing Windows 11
There are prerequisites before you can install Windows 11 on your PC.
---
1) Free storage space at least 64GB
2) RAM at least 4GB
3) Processor at least 1GHz in speed and compatible with 64-bit
---
I have written the full detail here as well as give link to Microsoft on how you can easily check whether your PC is compatible with Windows 11. Check it out here: Windows 11 Detailed Requirement Spec and tool for easily check Windows 11 compatibility at JILAXZONE.
---
Here's the detailed steps to update and install Windows 11 today on your PC
Follow the steps here to get your PC updated to Windows 11 Insider Preview.
---
1) Join Windows Insider Program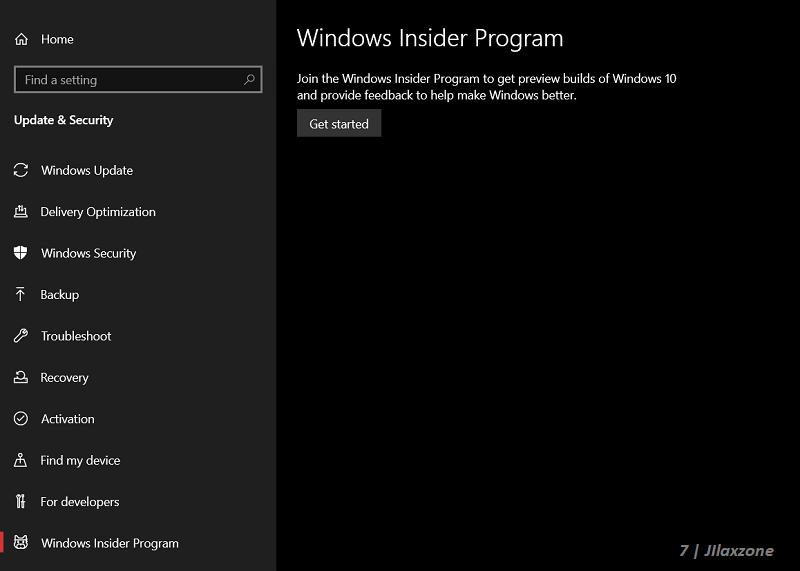 Click Windows icon > Settings > Update & Security > Windows Insider Program. Click "Get Started".
---
2) Register account for Windows Insider Program (Optional)
This step is optional and only if you have not joined Windows Insider Program previously.
a) When prompted to register, click on "Register".
b) It will then prompted you to join, click on the "Sign Up" button.
c) Another prompt, this time labeled as "You are almost there". Read the agreement and statement related to Windows Insider Program. Only when you agree, tick the "I've read and accept the terms of this agreement" and click on "Submit".
d) On "You are good to go" prompt, click "Close".
3) Pick & Link Account for Windows Insider Program
You'll be prompted to pick and link account to join Windows Insider Program. Click on "+" button to link your existing account. On the next prompt, choose your account and click "Continue".
---
4) Pick Insider Settings: Dev Channel, Beta Channel, Release Preview Channel.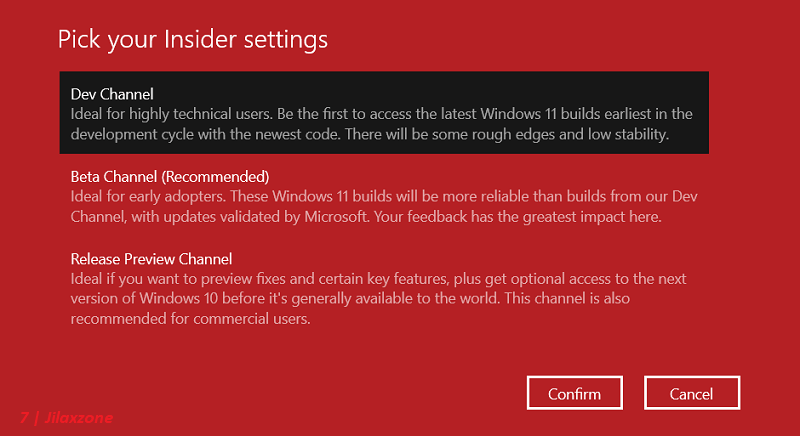 These are the descriptions for each channels.
| Channel | Description |
| --- | --- |
| Dev Channel | Ideal for highly technical users. Be the first to access the latest Windows 11 builds earliest in the development cycle with the newest code. There will be some rough edges and low stability |
| Beta Channel | (Recommended) Ideal for early adopters. These Windows 11 builds will be more reliable than builds from our Dev Channel, with updates validated by Microsoft. Your feedback has the greatest impact here. |
| Release Preview Channel | Ideal if you want to preview fixes and certain key features, plus get optional access to the next version of Windows 10 before it's generally available to the world. This channel is also recommended for commercial users. |
At the time when this article is written (that's after I'm successfully updating my PC to Windows 11) and although Microsoft stated Beta Channel has already supporting Windows 11 and recommended for most early adopters, but on my case, there was no update to Windows 11 when I chose Beta Channel. Option to update to Windows 11 only appear after I changed my selection from Beta Channel to Dev Channel.
So for you case, if you want to cut short, I would recommend straight away choose "Dev Channel", however you can choose "Beta Channel" and check for yourself, who knows by the time you are ready to update your PC to Windows 11, Microsoft has actually released Windows 11 for Beta Channel.
When prompted, click "Confirm" to confirm your channel selection.
---
5) Restart your PC
You have just successfully participating in Windows Insider Program and ready for Windows 11 upgrade. Now it's time to restart your PC. When prompted, click on "Restart Now".
---
6) Check Windows Update
Once your PC has been restarted, click Windows icon > Settings > Update & Security > Windows Update. Click "Check for Updates".
When you see "Windows 11 Insider Preview XX.XXX" where XX.XXX refer to the build version, click "Download and Install" to get Windows 11 update downloaded and installed.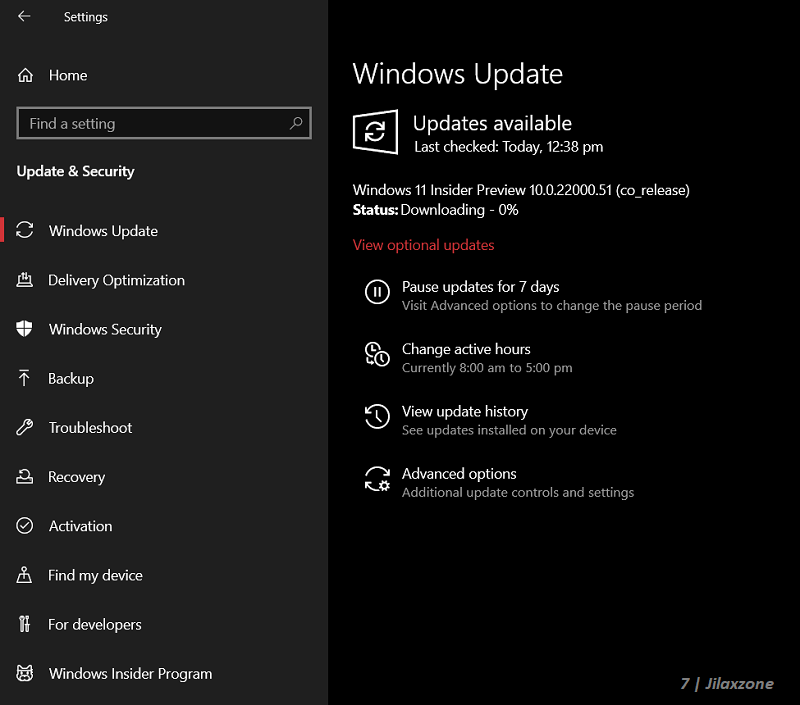 Depends on your PC configuration (hardware and software), for my case it took 1 hour 20 minutes to complete both download and installation of Windows 11. Here's the breakdown.
| Action | Time Taken |
| --- | --- |
| Downloading Windows 11 | 30 minutes |
| Installing Windows 11 | 50 minutes |
Once Windows 11 update has been downloaded and installed, you'll be asked to restart the PC, click on "Restart Now".
Note:
In case you can't find any updates related to Windows 11, go back to step "4) Pick Insider Settings: Dev Channel, Beta Channel, Release Preview Channel", because likely the choice you made doesn't have Windows 11 update yet. To be sure getting Windows 11 update, choose "Dev Channel".
---
7) Welcome Windows 11
After you click on restart, your PC will then get restarted a few times. Don't worry it's normal. After a few restarts, then you'll see the new Windows 11 login page, with the bold time at the top center of the lock screen. Congrats! You just managed to install Windows 11 on your PC.
---
Here's my Windows 11 PC, where's yours?

Using the steps above, I managed to update my PC to Windows 11. So far, after 1 day using the brand new Windows 11 insider preview, I have not encountered any compatibility issues nor stability issues yet (hopefully nothing). If you can't wait for the final commercial release of Windows 11 and very itchy to give it a try, then go ahead. Be sure to first back up any important files and documents on your PC before upgrading to Windows 11.
---
Do you have anything you want me to cover on my next article? Write them down on the comment section down below.
Alternatively, find more interesting topics on JILAXZONE:
JILAXZONE – Jon's Interesting Life & Amazing eXperience ZONE.
---
Hi, thanks for reading my curated article. Since you are here and if you find this article is good and helping you in anyway, help me to spread the words by sharing this article to your family, friends, acquaintances so the benefits do not just stop at you, they will also get the same goodness and benefit from it.
Or if you wish, you can also buy me a coffee: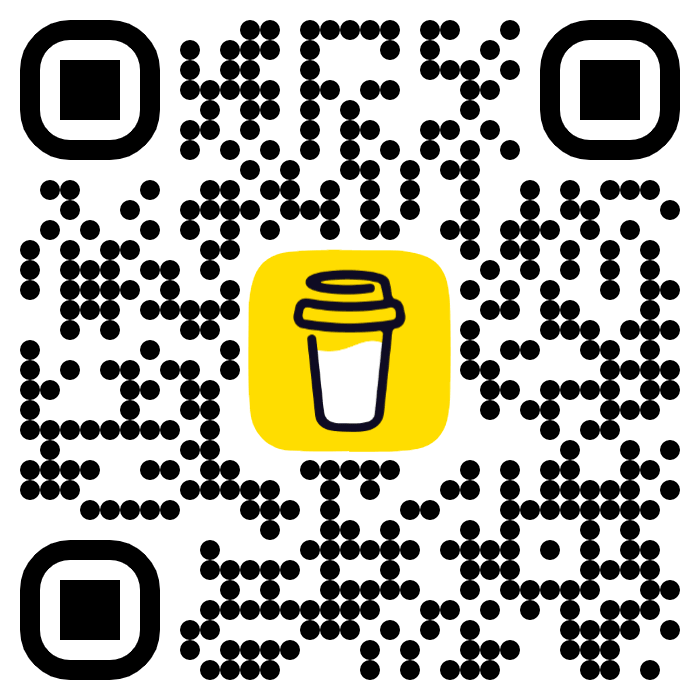 Thank you!
Live to Share. Share to Live. This blog is my life-long term project, for me to share my experiences and knowledge to the world which hopefully can be fruitful to those who read them and in the end hoping to become my life-long (passive) income.
My apologies. If you see ads appearing on this site and getting annoyed or disturb by them. As much as I want to share everything for free, unfortunately the domain and hosting used to host all these articles are not free. That's the reason I need the ads running to offset the cost. While I won't force you to see the ads, but it will be great and helpful if you are willing to turn off the ad-blocker while seeing this site.