Apple Soon to Open its First Singapore Flagship Store at Orchard Road
As I spotted last week a big advertisement board on top of a building near Rochor MRT station, I saw the picture shown Apple logo, heart logo and big O. Something like "Apple Loves O". They are all in red color. And there's some writing beneath it, Apple Orchard Road 27.05.17, so I assumed the big O is referring to Orchard Road. Then to my curiosity, I did checked on spot Apple official site,
Apple.com.sg
, and found the same picture on its first page.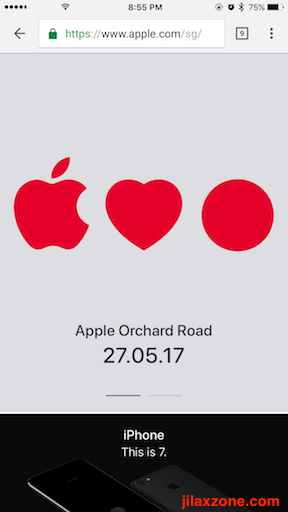 ---
Find other awesome articles, tips, tricks related to Life and Tech, iOS & Android quick review on:
---
Yes. Apple will open its first flagship store at Orchard Road, Singapore
Last Sunday 21st May 2017, I came to Orchard Road with my wife for sight-seeing and drinking coffee, then during walking on the Orchard Road stretch, in between Somerset MRT and Orchard MRT, I spotted the building with big Apple logo on it. Yes, it's true. Apple is finally going to open its Singapore Flagship store at Orchard Road. In case you are wondering, Apple Orchard Road is located on Grand Park Orchard. If you are not really familiar with the Grand Park Orchard name, it's the same building with Abercrombie & Fitch, located opposite of Mandarin Orchard.
Apple invites various local famous people to its opening events from local artists, local photographers, local app developers to local company founders.
Carousell
, one of Singapore booming start-ups for e-commerce, it's founders are also invited to join the opening party.
So, will you come to its opening next Saturday 27th May 2017? I think I will, together with my wife. Who knows there's some perks and discounts or the best is freebies for their flagships products. See you there!
---
For Life & Tech tips, iOS & Android Apps and Games quick review, do visit below:
---