iPhone XS Max Biggest Issue: Its Big Screen and Your Fingers
The iPhone XS Max Screen is just too big for human fingers to reach the entire screen.
Don't get me wrong, the new iPhone XS Max is gorgeous, especially the gold color one. It has big edge-to-edge screen with crisp color on it. Apple claimed the screen is delivering the most accurate color in the industry. It has what Apple called, super Retina OLED screen. The best ever display on an iPhone.
iPhone XS Max Biggest Issue: Its Big Screen!
While I have no doubt about it, however as good as and as big as the screen is, unfortunately most of our fingers, at least for me, are unable to reach the other side of the screen by just using single hand. You need to use both hands to reach the entire screen estates, and that's where the biggest issue for iPhone XS Max is.
For most cases, using both hands are fine. But what if at some point, you are only have one of your hands free, while the other hand is occupied or busy doing something else, such as while driving where one hand is on the steering wheel, the other hand is holding the iPhone (I know it's forbidden but I bet most of us are still doing so), or while commuting in public transport where one hand is holding into the handrail, while the other hand busy playing with the iPhone, and many more cases where you just have one hand, free. That's where Apple iOS Reachability comes into place.
What is Reachability?
First introduced on iOS 8 when Apple first launched its big iPhone – the iPhone 6 Plus back then. Apple realized that it will be difficult to reach the other side of the screen with just one hand, thus came out with this feature – Reachability – which purpose is to bring down top-half of the screen content down to bottom-half of the screen, so that one is able to reach the top part of the screen easily.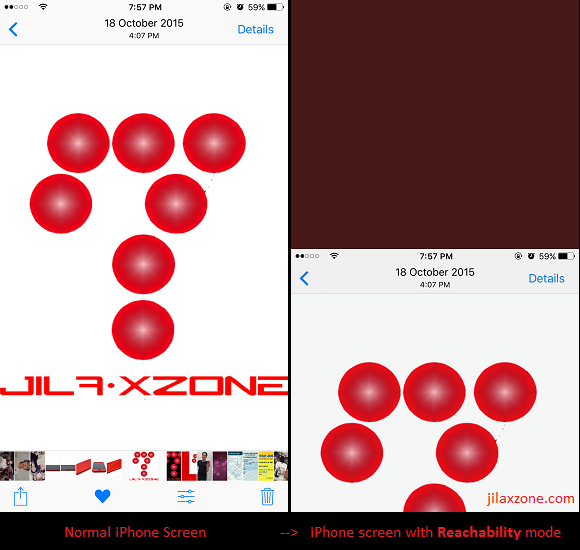 ---
Find other awesome articles, tips, tricks related to Life and Tech, iOS and Android quick review on:
---
How to use Reachability on iPhone XS Max?
First is, you have to turn the feature on. Since iOS 11, Apple has made it turned off by default.
Here's how to turn ON Reachability on iPhone XS Max
1) Go to Settings then General then Accessibility.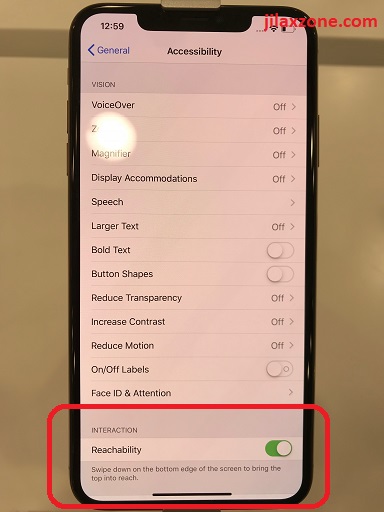 2) Under Interaction section, find Reachability.
3) Slide to turn it ON.
You just turned on Reachability feature.
Here's how to use/activate Reachability on iPhone XS Max
Once Reachability has been turned on, to use or activate it, is just by flicking down on the Virtual Home Button (the single white line located at the bottom of iPhone screen).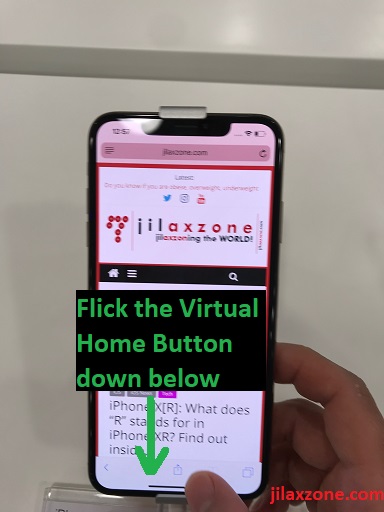 In case you don't get my instruction above and are not successful to try it yourself either, here's the super short video showing how to use Reachability on iPhone XS Max (Warning: Though it's short, but it contains audio – you might want to lower the volume first).
Bring it all together
So, using both hands or just one hand, now with Reachability, operating iPhone XS Max is now no longer a hassle. Do give comments or thoughts down below on the comment section. Cheers!
---
For Life, Tech tips, iOS and Android Apps and Games quick review, do visit below:
---
Hi, thanks for reading my article. Since you are here and if you find this article is good and helping you in anyway, help me to spread the words by sharing this article to your family, friends, acquaintances so the benefits do not just stop at you, they will also get the same goodness and benefit from it.
Thank you!