Going for adventure in Thomson Nature Park | Singapore Must Visit! | Rambutan | Durian | Ruins
Snails, boars, and monkeys are commonly sighted on the area. Snake too!
Looking for a new places to spend your free time and at the same time do a little bit exercising? If open places and nature theme is what you prefer and if MacRitchie Reservoir and East Coast Park are too boring and too common for you, then Thomson Nature Park is something you want to give it a try and for sure, you'll have different experience from MacRitchie Reservoir or East Coast Park.
Thomson Nature Park opened on 12 October 2019. According to Wikipedia, it has 5 trails spanning 3.8km into previous kampung areas though on my visit there, I found only 3 trails. Let me know on the comment below if you managed to find the missing 2 trails.
Now it (Thomson Nature Park) holds the title of Singapore's newest park and the seventh nature park under Singapore NParks. Daily opening Hours: 7am – 7pm (After 7pm, you are not allowed to enter or remain in the park).
Here's what Thomson Nature Park looks like. On the video, you'll see Snake, wild boars as well as monkeys and area where to find them.
---
For other interesting places to visit in Singapore, do check it here as I've got plenty recommendations for you, from nature places, eating places, best internet plan to use and so many more!
---
Thomson Nature Park key features
These are the features of Thomson Nature Park. In sequence of importance 🙂
Challenge for you: Can you spot and find all of them during your visit? Or can you find something different that I don't mention here or on my video above?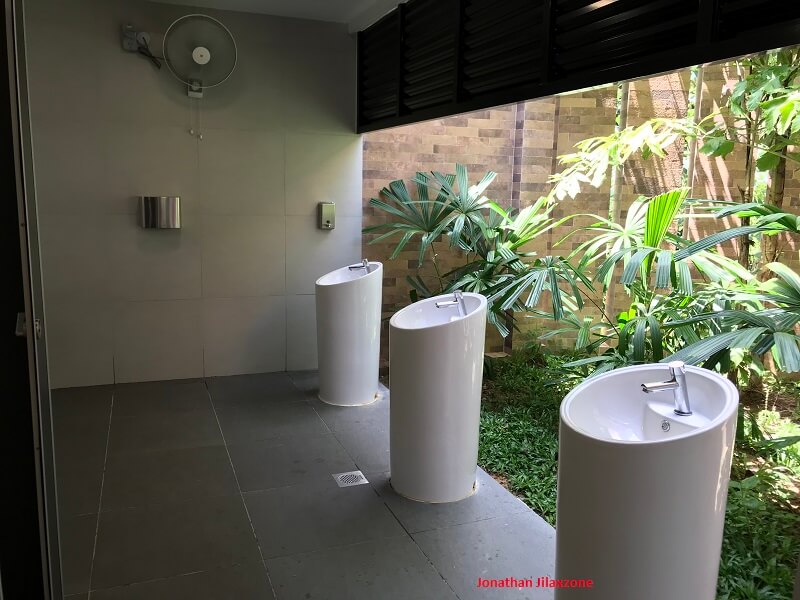 1) Nice toilet. This is important, especially if you need to do your business while you are visiting the park.
2) Free flow cold water. Just next to the toilet, you'll see this water dispenser. Singapore weather is normally hot and humid and having this cold water dispenser, it's totally like you are in seventh heaven!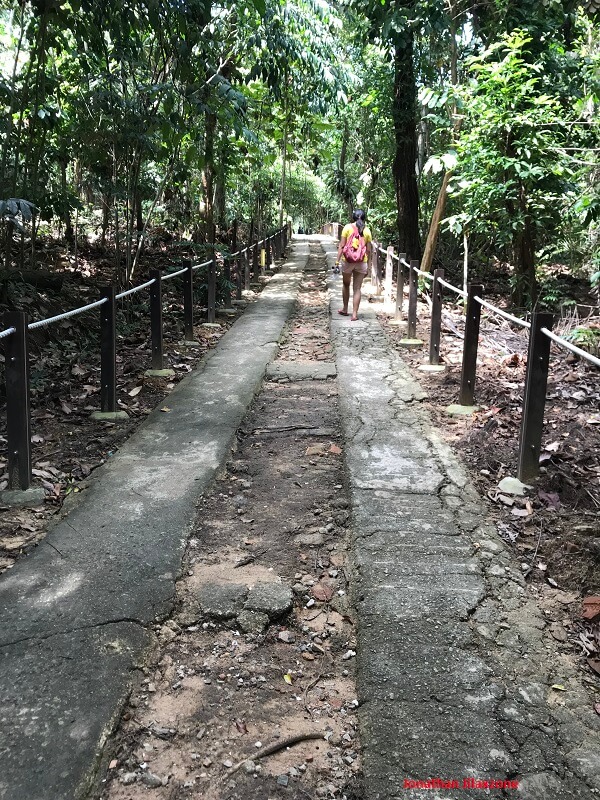 3) 3 trails. There are 3 trails which you can complete all of them within 1 day: rambutan trail, ruins & figs trail, stream and ferns trail.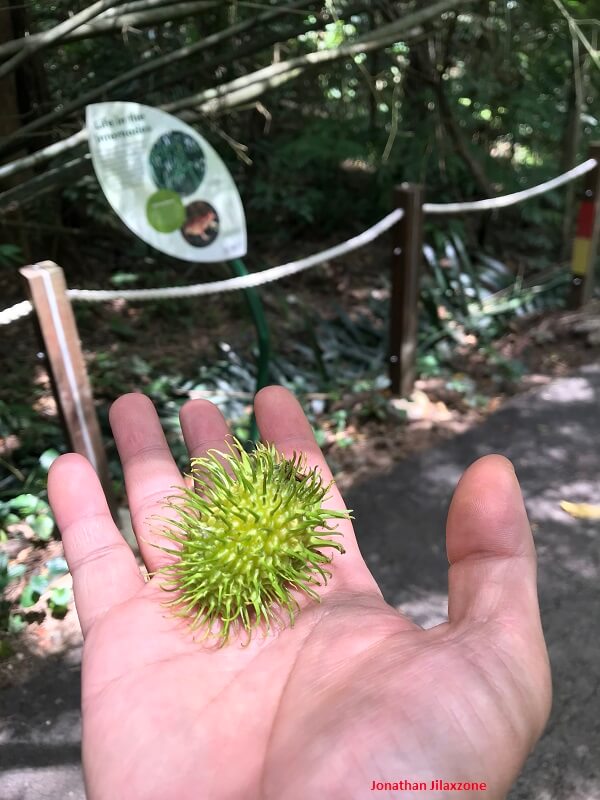 4) Rambutan fruits. You'll encounter many of them during your walk on the premise. In the past, here at Thomson Nature Park area lived one of the best Rambutans seller in Singapore – The Hans family. Make sure you read the signage along the trails to know more on the history.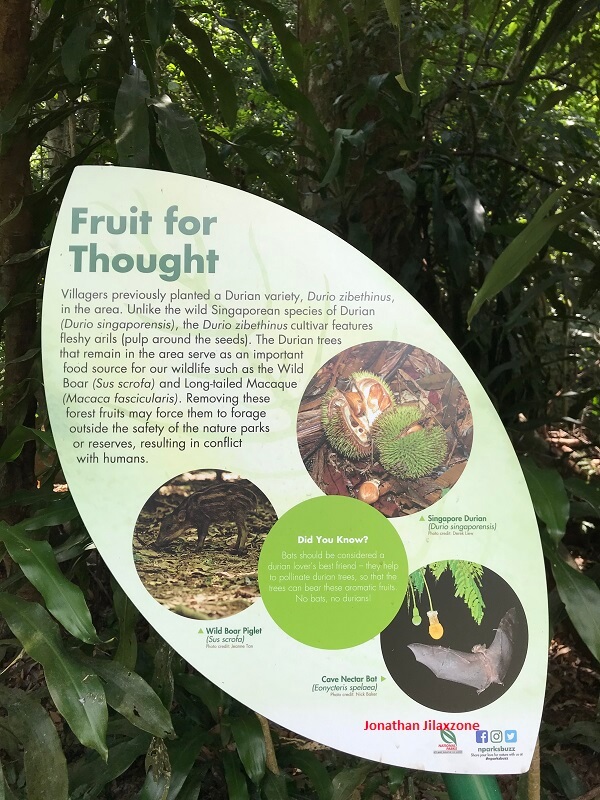 5) Singapore durian. It's not Malaysia durian nor Thailand durian, it's truly Singapore original durian, called Durio Singaporensis. Turned out, Singapore has its own durian species.
6) Wild boars. They are camping near the Ruins & Figs trail.
7) Wild monkeys. They are actually not monkeys, but cousins of monkeys, called Langur. Found and met them on the stream and ferns trail.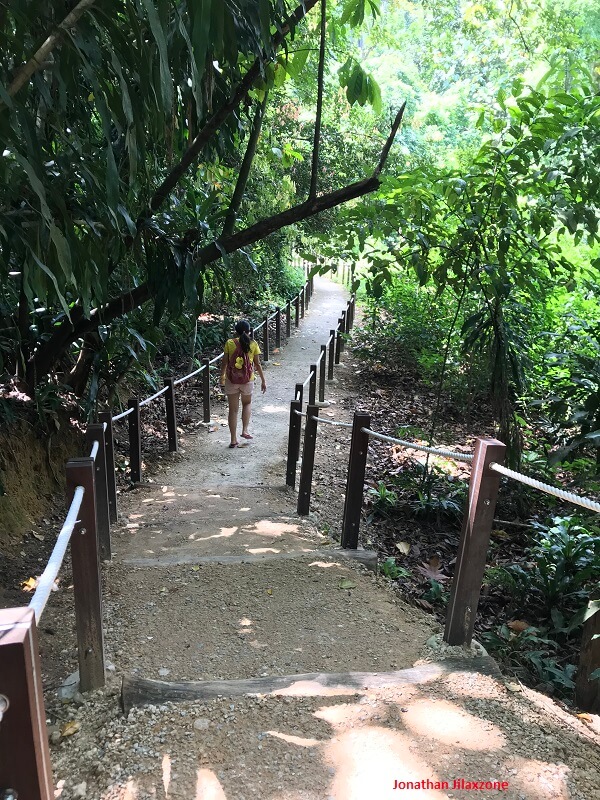 8) Wild snake. Consider myself lucky, I found the snake crawling on the bush on the rambutan trail during my visit there. If you encounter it too, don't get too close as the snake may be dangerous.
9) Squirrels. They play around cables and trees, go find them along the Stream and Ferns trail.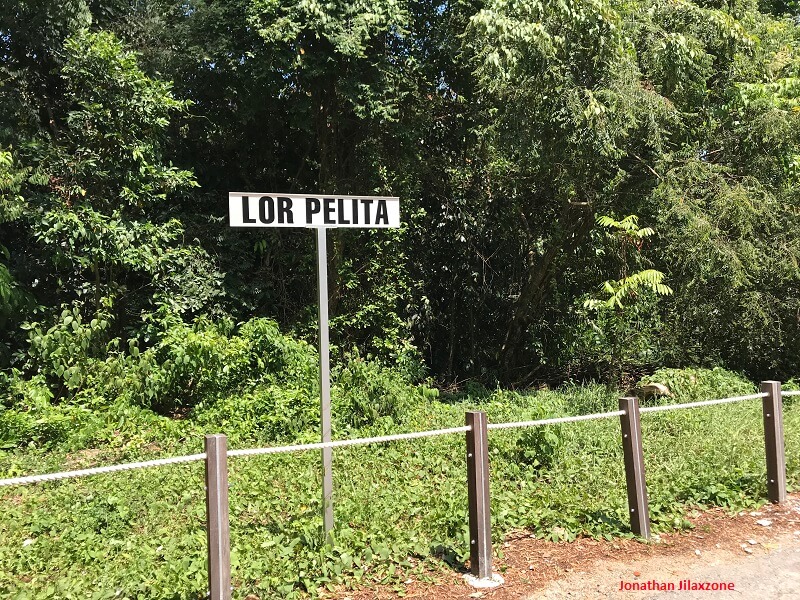 10) Singapore old road signage. Do you know, before Singapore standardize the road signage with green colored background, white font and silver frame, it used to be white background, with black text on it. Here's the road signage showing Jalan Belang dan Pelita.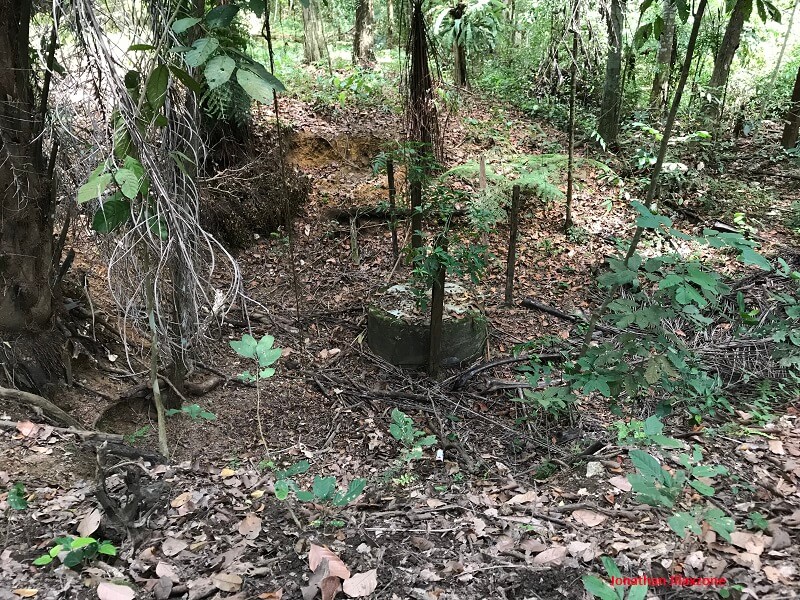 11) Old wells (sumur in Bahasa). This was what Singaporean had before PUB to source water for living.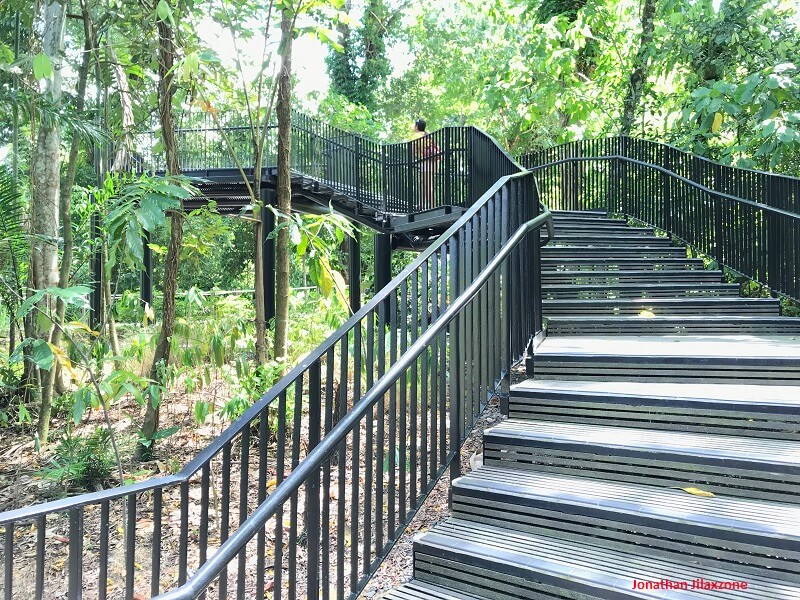 12) Viewing decks. For photo taking and for seeing the surrounding areas.
Thomson Nature Park Location & Opening hours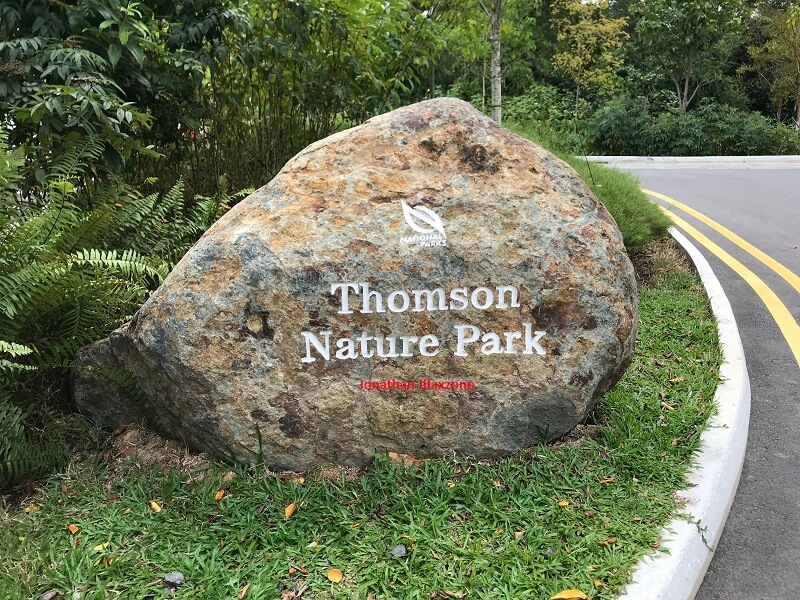 | | |
| --- | --- |
| Address | Upper Thomson Road, between the before Tagore Road bus stop and after Tagore Road bus stop. |
| Opening hours | 7am to 7pm everyday. |
| Admission fee | FREE. $0. |
| How to go here | To go here by public transport, you need to take bus 138, 138A, 167, 169, 860, 980 and alight at either Aft Tagore Road or Bef Tagore Road. |
Here's the location on Google Map. Click to save or get direction to the location.
And here's the locality map. Tap to zoom in or to save it.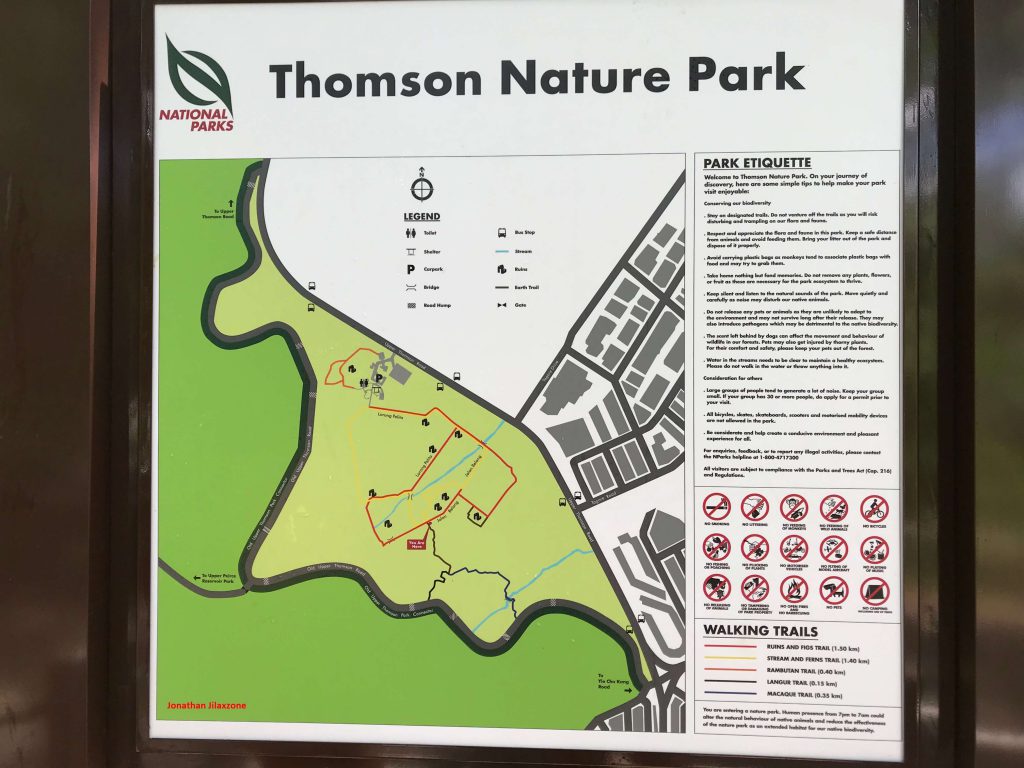 Fun Facts about Thomson Nature Park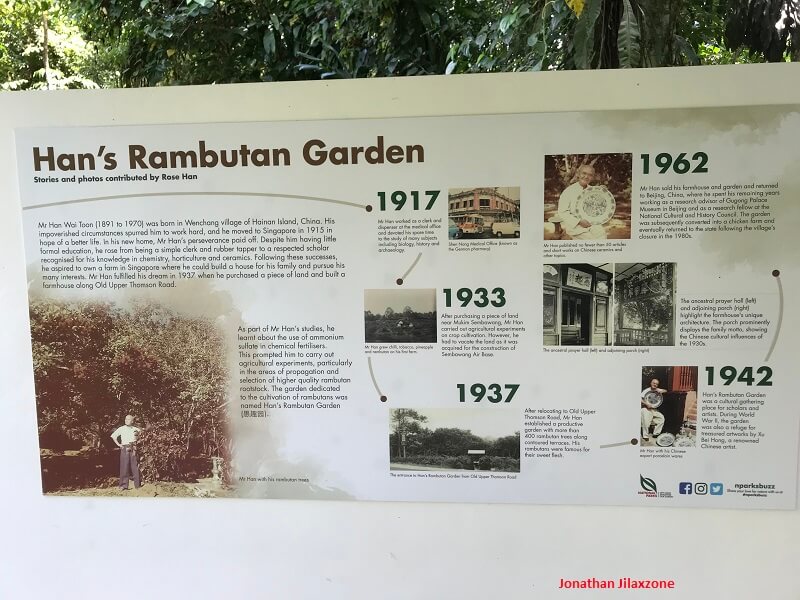 Fact 1. It used to be a settlement for Hainan people. So apart from Chicken rice whom Hainan folks are famous for, Hainan people who lived in this place were known as Rambutan sellers back in the day, they cultivated Rambutans themselves and sold them to supplement their income.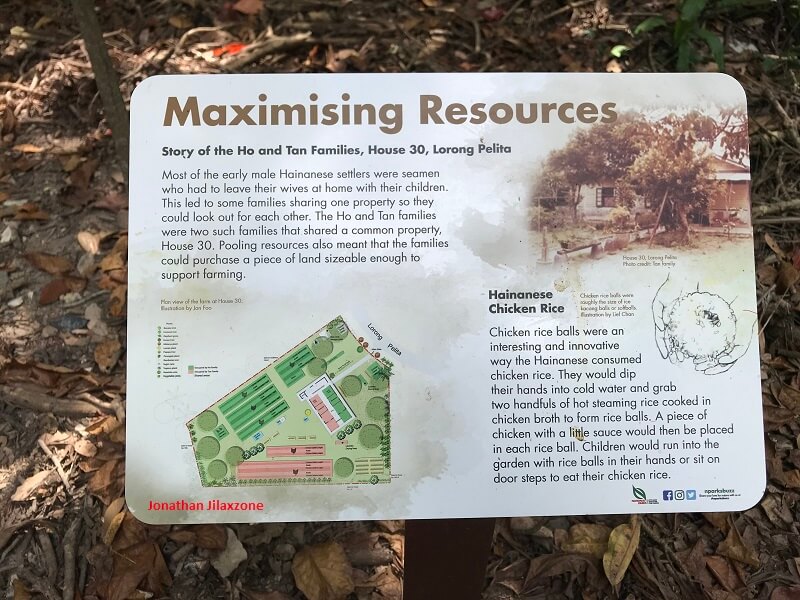 Fact 2. Some of the families also shared their property and lands (people in Singapore in the past, they can afford to buy piece of lands), so they can buy bigger lands and make use of whatever they have better (in Bahasa, the term is Gotong Royong) – maximizing the usage. As it turned out, sharing economy isn't something new to Singaporeans. So before AirBnB, Uber, Grab, WeWork and so many other things, Hainan people figured it out already.
Fact 3. It took about 2 hours to finish the whole tracks while taking photos and videos, so you can be much faster than me if you just walk and enjoy the scenery and landscapes.
Best time to visit Thomson Nature Park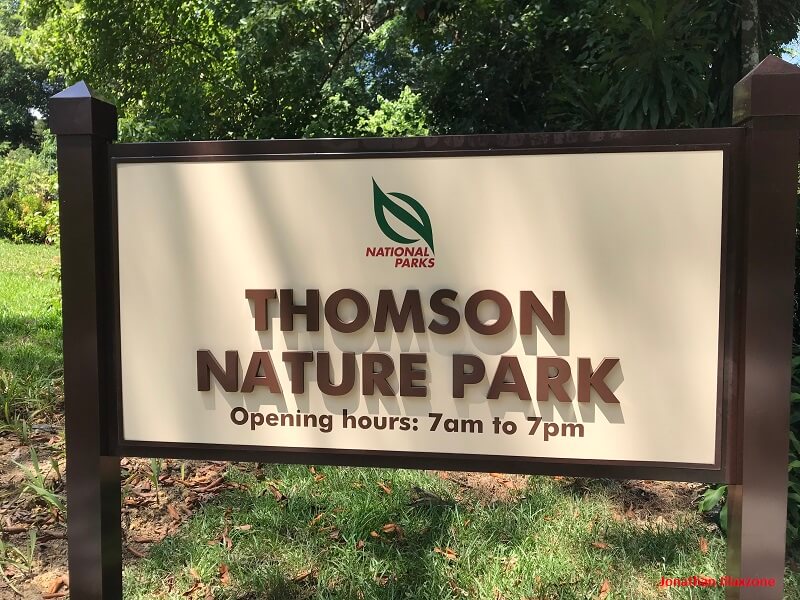 There's plenty of tall trees on the area, however it covers only 80-85% of the area, so about 15-20% you'll still get burnt by the sun and feel the heat, so my recommendation on when is the best time to visit Thomson Nature Park will be either in the morning from 7-9am or in the afternoon 4-6pm. Do remember, the park opens only from 7am to 7pm.
Things you need to carry with you
1) Water bottle (optional). There's water dispenser next to the toilet.
2) Snacks. At this moment, there is no foodcourt, canteen, hawker nor restaurant alike available on the premise. So bring biscuits or any other kind of foods in case you are afraid you are going to be hungry during your visit. The nearest eating place is about 1KM away.
3) Umbrella. Bring umbrella in case of raining or to cover you from the direct sun light. There's only a few huts for resting and take cover during rain, so umbrella is something you want to bring with you.
4) Mosquito or insects repellent. During my visit, I didn't get bites by these insects, but just in case your skin is quite sensitive and to avoid getting bites by mosquites or alike, then it's good to bring the repellent.
Summary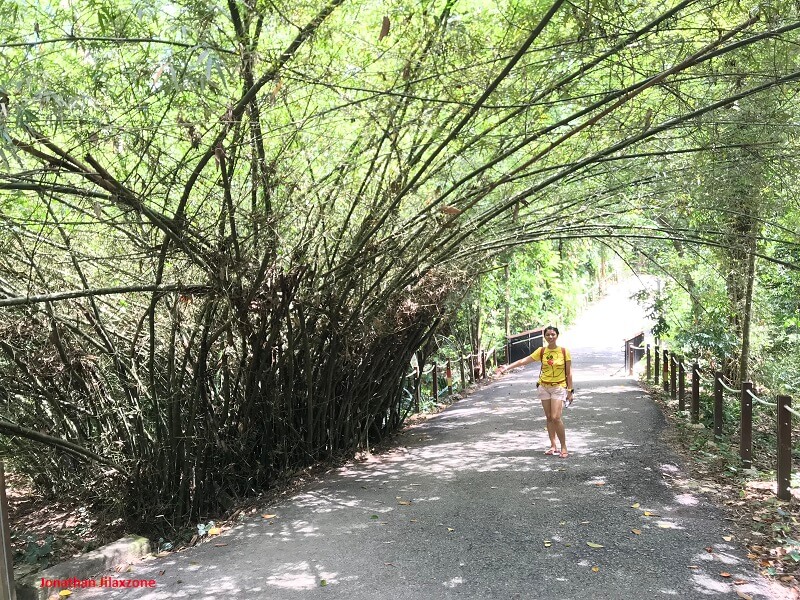 If you want to see how old Singaporeans lived their life (one of many ways), plus encounter with quite many wild animals, here's the place.
---
Do you have anything you want me to cover on my next article? Write them down on the comment section down below.
Alternatively, find more interesting topics on JILAXZONE:
JILAXZONE – Jon's Interesting Life & Amazing eXperience ZONE.
---
Hi, thanks for reading my curated article. Since you are here and if you find this article is good and helping you in anyway, help me to spread the words by sharing this article to your family, friends, acquaintances so the benefits do not just stop at you, they will also get the same goodness and benefit from it.
Or if you wish, you can also buy me a coffee: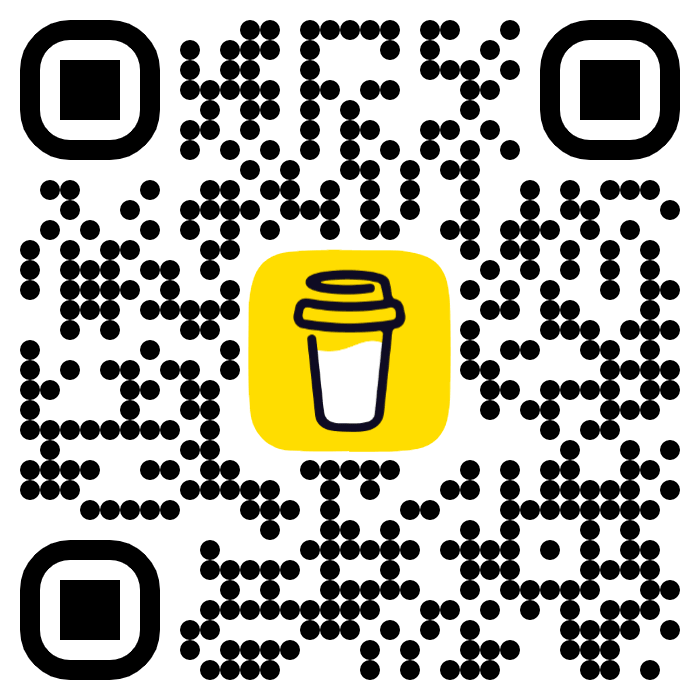 Thank you!
Live to Share. Share to Live. This blog is my life-long term project, for me to share my experiences and knowledge to the world which hopefully can be fruitful to those who read them and in the end hoping to become my life-long (passive) income.
My apologies. If you see ads appearing on this site and getting annoyed or disturb by them. As much as I want to share everything for free, unfortunately the domain and hosting used to host all these articles are not free. That's the reason I need the ads running to offset the cost. While I won't force you to see the ads, but it will be great and helpful if you are willing to turn off the ad-blocker while seeing this site.