TPG Mobile – Fix on why can't make or receive phone calls on iOS 14 | Singapore
Using TPG mobile in Singapore and paired it with iPhone and frustrated to find out that the TPG 4G Voice app is not working (always crashing) on iOS 14 and / or wondering why you can't either make a phone call or receive any? I got a fix for you.
TPG Mobile (or TPG Telecom) is one of the newest telco company here in Singapore, though actually they are not that new. TPG has been here since 2016 (check here). It's an Australian-based telecommunication company, founded back in 1986 (here for more details).
Fix for iPhone users with iOS 14 to make or receive phone calls with TPG Singapore
This fix is for iPhone users with iOS 14 and up who find out that the TPG 4G Voice app is always crashing when opened.
For iPhone with iOS 13 or before and/or Android users, head to this article to get your phone call issues fixed: TPG Fix for Android and iPhone with iOS 13 or before at JILAXZONE.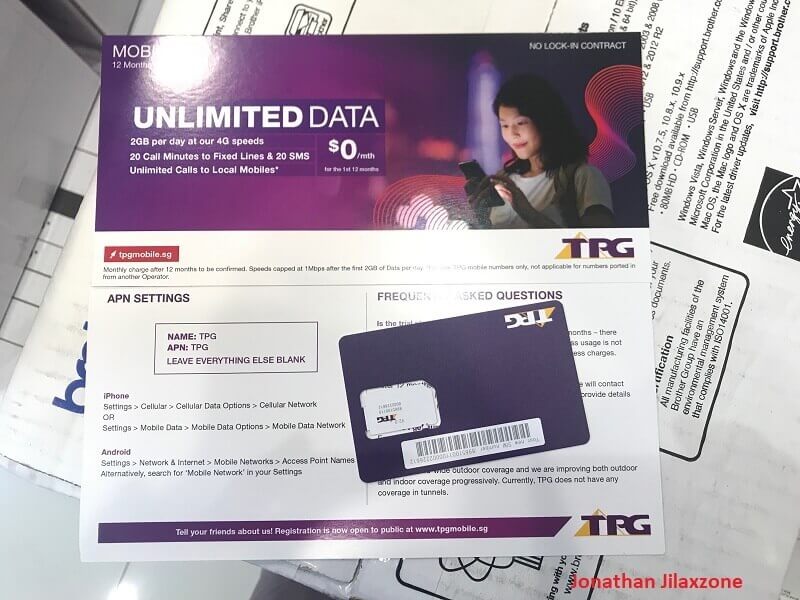 Here's what you need to do, to be done on your iPhone running iOS 14 or up:
1) Delete TPG 4G Voice app if you have it – it's unusable!
2) Go to Settings > Cellular > Cellular Data Options > Voice & Data.
2) Choose LTE or 4G.
3) Switch on VOLTE.
That's it. Now try either making a phone call to someone else or ask someone else to call you. It should work.
Want to know more interesting things about and in Singapore?
I wrote quite a lot of articles about Singapore: places to visit, hidden gems to try, food to digest in even to tips around housing.
Do check them out here: Singapore@JILAXZONE.
---
Do you have anything you want me to cover on my next article? Write them down on the comment section down below.
Alternatively, find more interesting topics on JILAXZONE:
JILAXZONE – Jon's Interesting Life & Amazing eXperience ZONE.
---
Hi, thanks for reading my article. Since you are here and if you find this article is good and helping you in anyway, help me to spread the words by sharing this article to your family, friends, acquaintances so the benefits do not just stop at you, they will also get the same goodness and benefit from it.
Thank you!
Live to Share. Share to Live. This blog is my life-long term project, for me to share my experiences and knowledge to the world which hopefully can be fruitful to those who read them and in the end hoping to become my life-long (passive) income.
My apologies. If you see ads appearing on this site and getting annoyed or disturb by them. As much as I want to share everything for free, unfortunately the domain and hosting used to host all these articles are not free. That's the reason I need the ads running to offset the cost. While I won't force you to see the ads, but it will be great and helpful if you are willing to turn off the ad-blocker while seeing this site.