7 Must Visit Places in Singapore – My Version
Singapore is just 51 years old today, but it has rapidly transform from kampong with jungles and its traditional market into 1st world developed countries with concrete jungles showing its modern architectures and greatness, which are loved by millions of tourists visiting the city-state country.
Either this is your first time planning to go to this amazing city or it's your Nth-time, these are 7 must visit places in Singapore you need to go during your visit – my version.
1. Orchard Road Shopping Belt
The first tourists destination, especially during the sunny day is the Orchard Road shopping belt located on Orchard Road.
2. Sentosa Island
Sentosa island is usually the second place most tourists visit when they have full day ahead of them. The whole island is about entertainment and fun.
There are few ways to get here:
Attractions found on Sentosa Island:
3. Clark Quay
Best time to visit Clark Quay is after the sunset ~ 7PM that's when all the cafe, bar, restaurant are fully operating and people start to come.
Things you can do in Clark Quay:
4. Marina Bay Sands area
One thing people, especially tourists, usually get confused is the MRT station for Marina Bay Sands area. Singapore has Marina Bay MRT station, unfortunately, this is not the correct MRT station to go if you are planning to go to Marina Bay Sands area including Gardens by The Bay and the Helix Bridge. Instead of Marina Bay MRT (Red and Yellow line), go to BayFront MRT (yellow and blue line).
Things you can visit and do in Marina Bay Sands and Marina Bay area:
Sequence below showing the suggested itinerary when visiting Marina Bay Sands area.
5. Bugis
Bugis, located at Victoria Street, is another iconic place to visit and one of the tourist destinations.
Things you can do and visit in Bugis area:
6. Little India
a. Tekka Market. Located at one of the Little India MRT exit, Tekka Market is a traditional market and hawker center that most of them are selling Briyani rice and Masala Tea. Despite the old looks and quite dirty area, but the food is really good. Find what people mostly eat and order the same.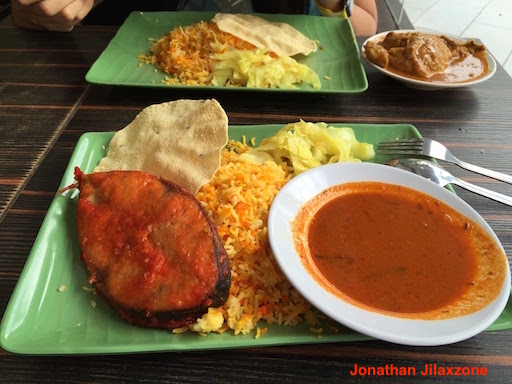 7. Chinatown
The Verdict
Well, I'm pretty much sure with the list above, at least you need to spend minimum 3 days, fully packed and with the assumption you have enough energy and stamina to visit all of them. What do you guys think of my 7-must-visit list for Singapore? Do you have the same list with me or do you have something different, something I haven't mentioned above? Do let me know your thoughts.
---