The World is Shutting Down Their 2G Networks. How Does It Impact You?
Starting from Japan as early as 2003 and then recently Australia Telstra on December 2016 last year, then US AT&T on January 2017 and shortly follow by all Singapore telco (telephone companies) on April 2017 – about 3 months plus from now, the world is shutting down its 2G network. And why you should care?
Shutting down 2G network : It may or may not impact you.
1. The Phone
Should you care or not, it all depends. If you recently bought those new flashy and expensive smartphone such as iPhone 7 or Samsung Galaxy S7 then you are good. Even I can say, as long as you are using any iPhone (except iPhone 2G) or any Android phones, any Lumia phones (Nokia or Microsoft) then you are good as well. For Blackberry, (to put it simply) you need to make sure your Blackberry is having at least Blackberry OS 7 or up – because all Blackberries with OS 7 and up are 3G ready.
2. The SIM Card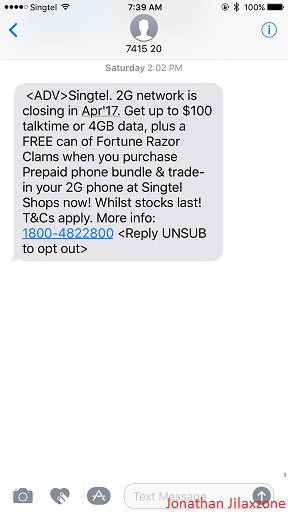 Another factor and also important one is the SIM card you are using. If you are using either micro SIM card or nano SIM card then you are good. If you are using the normal "big" SIM card, then again it depends. The easiest way to find out is to put the SIM card into the 3G (or up) phone, then see if 3G (or 4G or LTE) signal comes up. If it shows only GPRS or EDGE all the time then you need to replace your SIM card with the new one, 3G or 4G or LTE compatible.
---
Find other awesome articles, tips, tricks related to Life and Tech, iOS & Android quick review on:
---
2G = GSM?
Things people often get confused is whether 2G the same as GSM? In short yes, they are both the same.
2G is short for 2nd Generation, terms used globally to differentiate the last-time new digital telecommunication network with its predecessor analog network which now-they-called 1G a.k.a 1st Generation. Unlike 1G that can only carry and deliver voice via analog, 2G can deliver voice and small chunk of data (SMS, MMS, and if you still remember – WAP) digitally.
With the introduction of 2G, there are 2 globally recognized standard: GSM (TDMA-based) and CDMA. With GSM is the standard being used of more than 80% operators world-wide. The other 20% is using the CDMA standard.
Is 3G = GSM or 4G/LTE = GSM?
In short no, they are not the same. However the GSM jargon because of its popularity, is still actively used to over-simplify 3G and 4G as GSM successor (so feel transparent to end users) and its differentiation between it's siblings CDMA, thus even though you are now using 3G (technically WCDMA or HSDPA) or 4G (technically LTE), for the sake of simplicity, you are still under GSM or at least GSM successor.
Telecommunication Technologies
For easier understanding, I put the simplified version of telecommunication technologies on the table below together with their advancements and benefits.
| | | | |
| --- | --- | --- | --- |
| Technology | Standards | Advancements and Benefits | Sample phones |
| 1G | AMPS, TACS | Voice | Motorola Brick |
| 2G | GSM, CDMA | Voice + SMS | Nokia 3310 |
| 2.5G | GPRS | Voice + SMS/MMS + WAP | iPhone 2G, Nokia E71 |
| 2.75G | EDGE | Voice + SMS/MMS + WAP + Faster Speed | Nokia 9500 |
| 3G | UMTS, WCDMA | Voice + SMS/MMS + WWW (384 kbps speed) + VOIP | iPhone 3G, Galaxy Note |
| 3.5G | HSDPA | Voice + SMS/MMS + WWW (3.6 Mbps speed) + VOIP | iPhone 4 |
| 3.75G | HSPA | Voice + SMS/MMS + WWW (7.2 Mbps speed) + VOIP | iPhone 4S |
| 4G | LTE | Voice + SMS/MMS + WWW (84 Mbps speed) + Better VOIP | iPhone 5, Galaxy Note 2 |
The Verdict
So with all the short and hopefully simple explanation above, are you ready to switch to 3G and up only network? I am ready!
Do check your parents or grand parents phone and SIM card too. Who knows they are still using the 2G phone or SIM card.
---
For Life & Tech tips, iOS & Android Apps and Games quick review, do visit below:
---