Don't Miss Singapore Chinatown The 50 Cents Festival – Foods and Drinks Lovers Come Get In!
#The50CentsFest
Food lovers, those with hungry stomach, tourists and YOU!, don't miss this. Come and enjoy various foods and beverages for just 50 Cents Singapore Dollar.
Yes 50 Cents. You read it right. Have you gone to the Singapore Chinatown The 50 Cents Festival this year? If you don't, then tomorrow is your last chance for this year.
The 50 Cents Fest. What is it?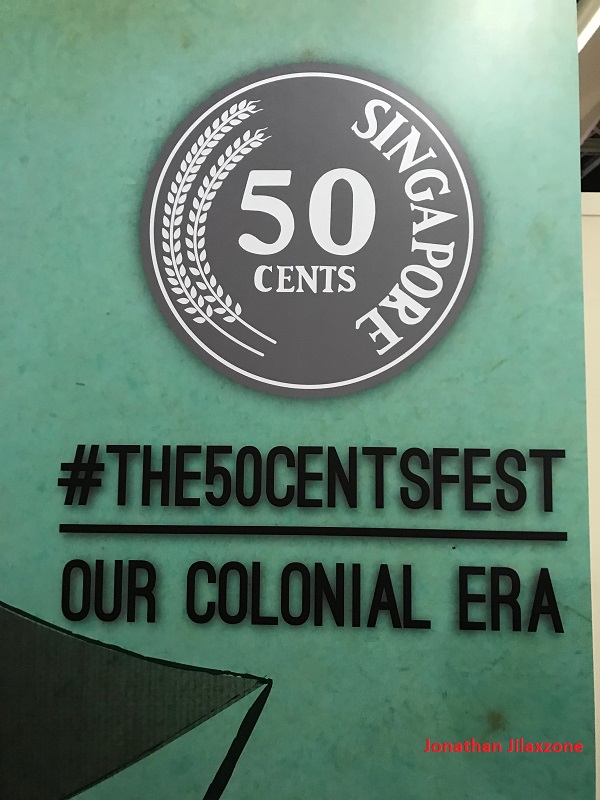 The 50 Cents Fest is an annual programme made by Singapore to bring back memories of Singapore foods and beverages in the past as well as to attract residents and tourists to come and visit Chinatown.
The picture below taken from last year, during The 50 Cents Fest 2017.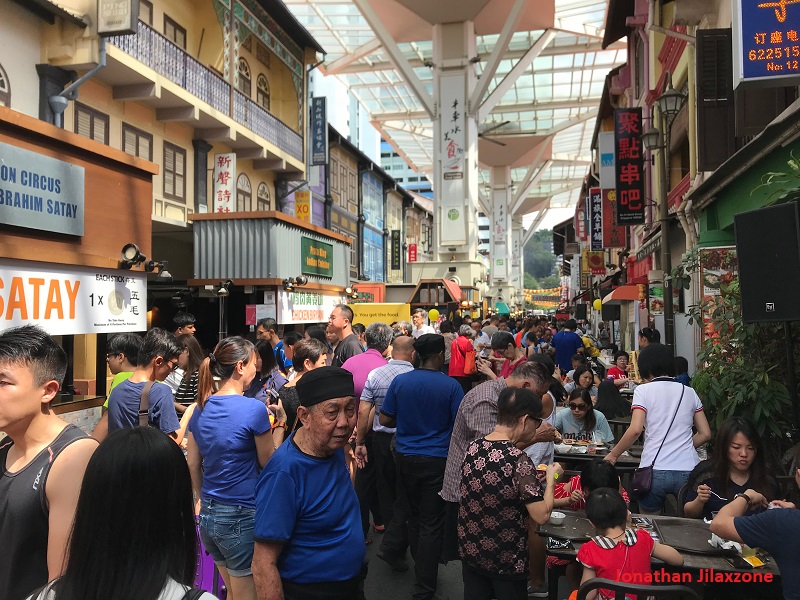 While the picture below was taken today, during The 50 Cents Fest 2018. The crowds is super!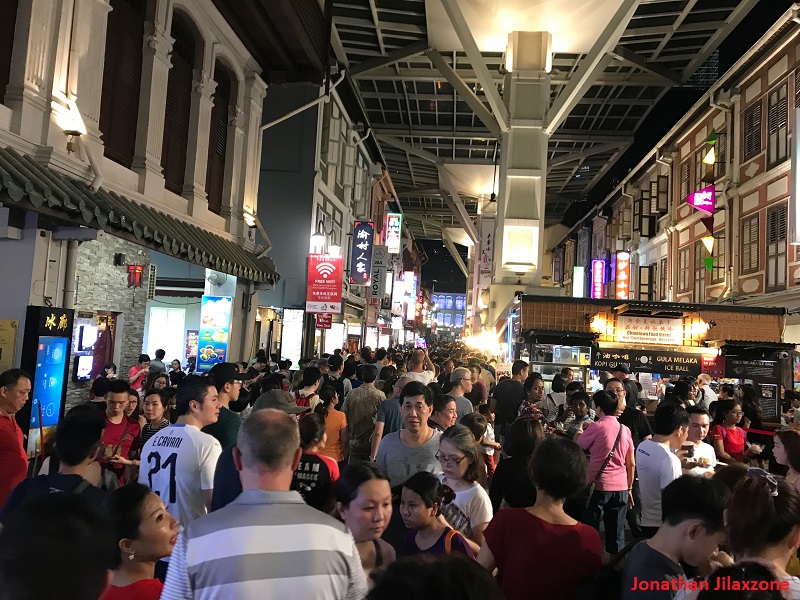 The 50 Cents Fest. Where is it?
Obviously as written on the title of this article, it's held on Chinatown, Singapore. To be exact along the stretch of Smith Street, Chinatown (indicated by the red line on image below).
The easiest to get there is by purple line MRT (North East Line). Alight at Chinatown MRT and take Exit A (Pagoda Street). Walk through Pagoda Street until you find intersection. Turn right and walk straight. After 2 intersection, the second one is Smith Street, on the left side of Smith Street is the location of The 50 Cents Fest.
---
Find other awesome articles, tips, tricks related to Life and Tech, iOS & Android quick review on:
---
The 50 Cents Fest. When is it?
Unfortunately, the event only last for 2 days and starting today.
From: Saturday 28th July 2018
Until: tomorrow Sunday 29th July 2018
Time: From 11am till 11pm.
The 50 Cents Fest. How does it look like?
This is the crowd on the first day.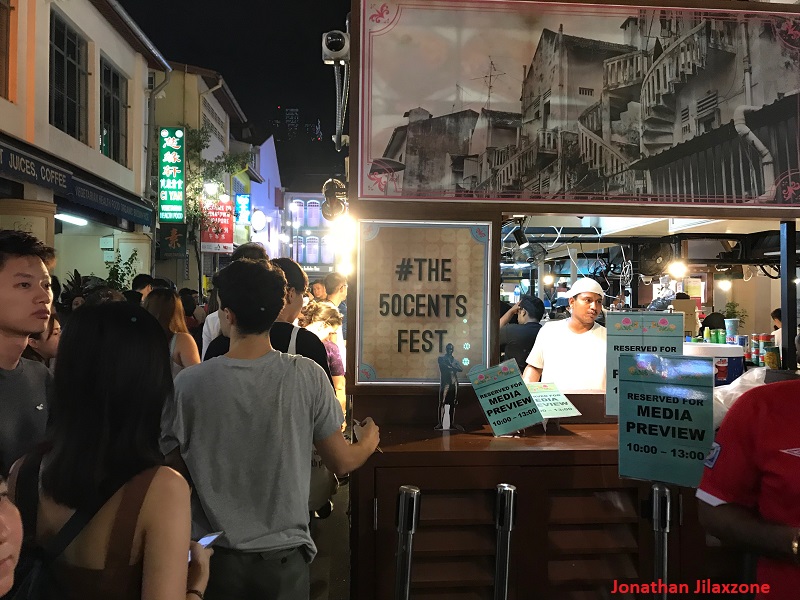 As you can see on the picture, that was taken on 8pm+. While guaranteed all the participating stalls have all the food and beverages in stocks, but be sure to come as early as possible to avoid disappointment for queueing so long.
The 50 Cents Fest. What are the foods and beverages?
There are plenty for sure! Here are the lists (non exhaustive):
Foods stalls (located in the middle of Smith Street):
Bak Chor Mee Pok
Belacan Fried Rice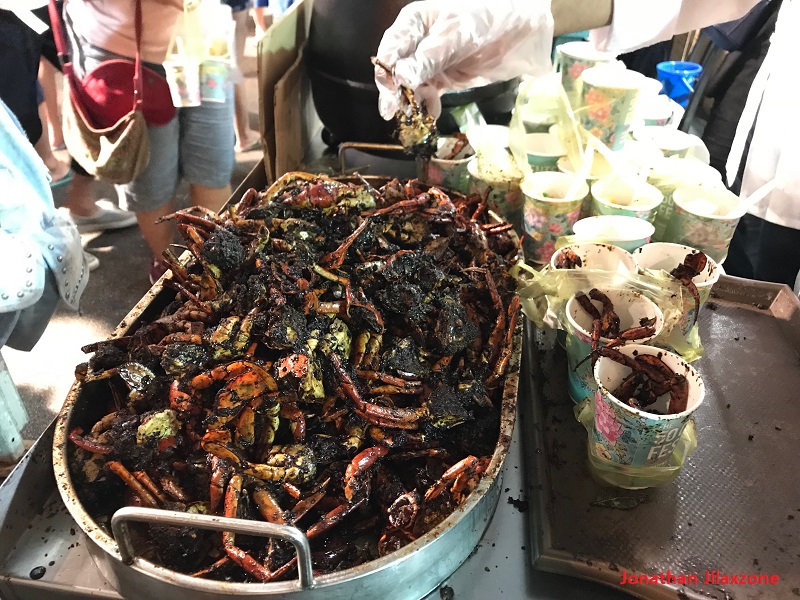 Black Pepper Crab
Braised Duck Noodle
Char Kway Teow
Chicken Satay
Curry Chicken with Bread
Fish Molee
Gula Melaka Ice Ball and Kopi Gu You
Hainanese Fish Maw Soup and Steamed Pork and Cabbage Dumpling
Hokkien Mee
Lei Cha
Kacang Goreng
Kong Bak Pau
Kway Chap
Magnolia Raspberry Ripple
Oyster Omellete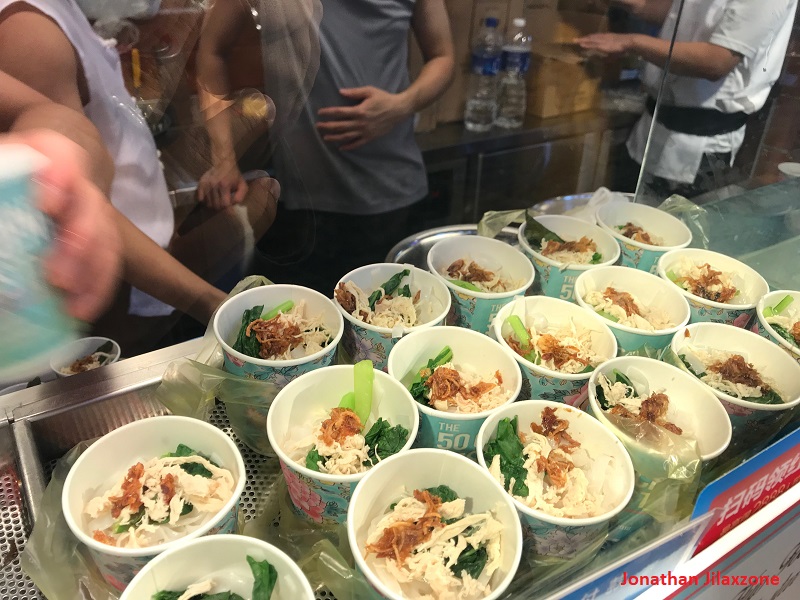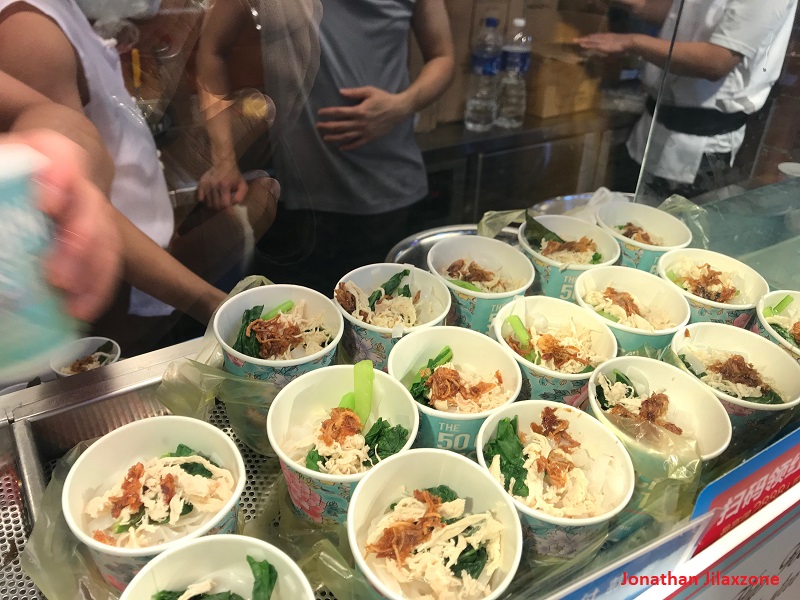 Oyster Sauce Shredded Chicken Hor Fun
Roti John
Soon Kueh and Kueh Lapis
Sweet and Sour Pork Rice
Teochew Beef Kway Teow
Uttapam
White Pepper Prawn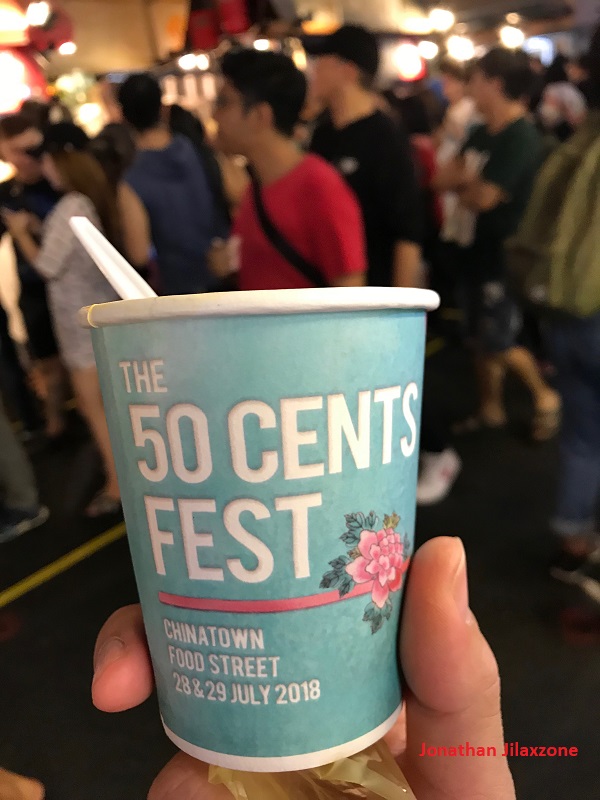 Mobile Foods Stalls (around the corner):
Banana Ball
Indian Rojak
Lontong
Kaya Bun
Mee Siam
Popiah
Putu Piring
Teh Tarik
and many more!
Do you find which one you want to eat? All of them are for 50 cents (minimum) to 50 cents x4 ($2 – maximum).
The 50 Cents Fest. What are the recommended foods and beverages?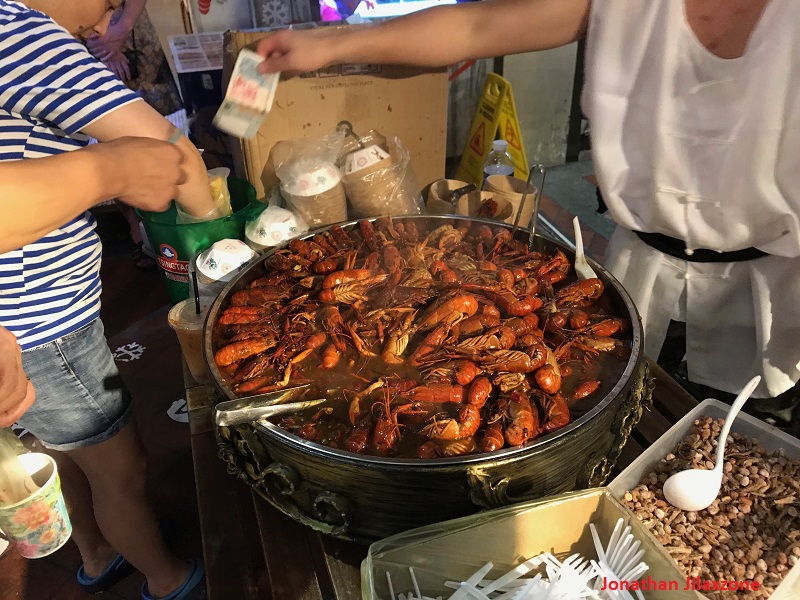 Different people has different taste and liking. For me personally, I like the Kopi Gu You (Black coffee with sugar and a slice of butter) and the Lontong. What about you?
The 50 Cents Fest. Anything else?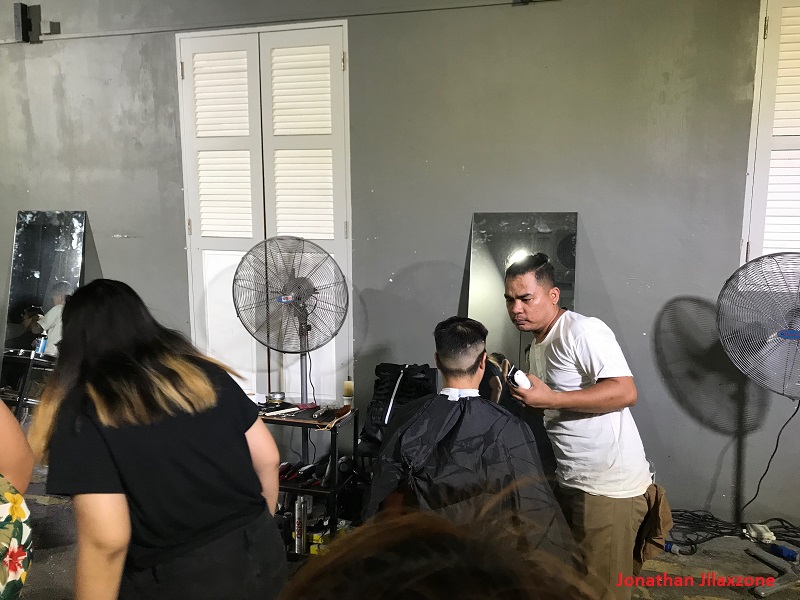 They also have haircut promotion along the alley. For just 50 Cents x4 ($2) you can get your haircut. They accept man/women/boy/girl.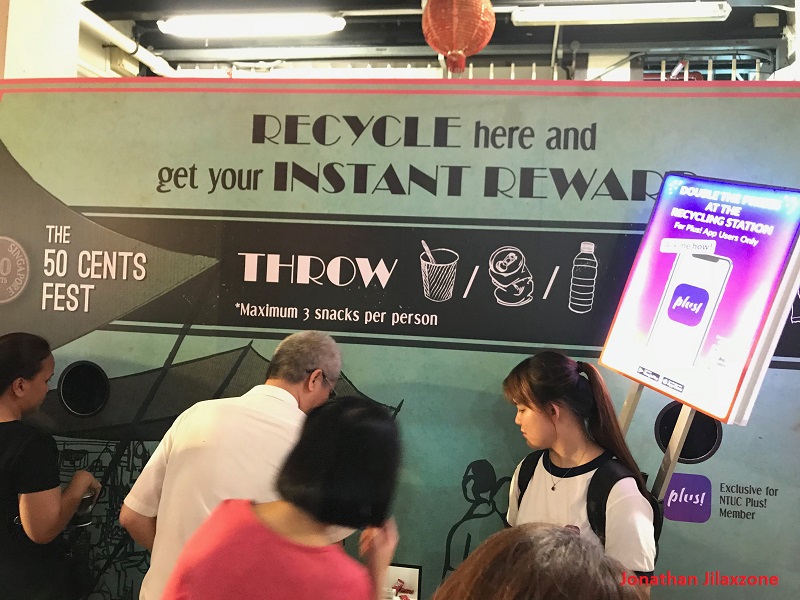 Also, after finished eating, do not litter by leaving /throwing your food cups on the street/road, but rather bring them to the recycling center (still along the Smith Street) to get snacks and candies in exchange!
The 50 Cents Fest. Don't wait.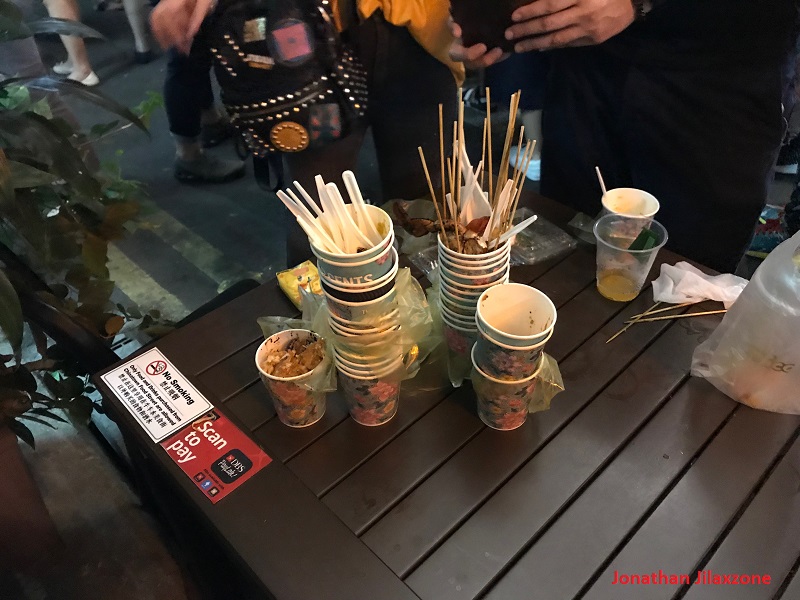 If you happen to read this article either on 28-29th July 2018, don't wait and don't give so much thought, just go there and visit. For (min) 50 Cents a dish, for sure you get your tummy full without emptying your pocket.
But if you read this article on a later date, don't worry!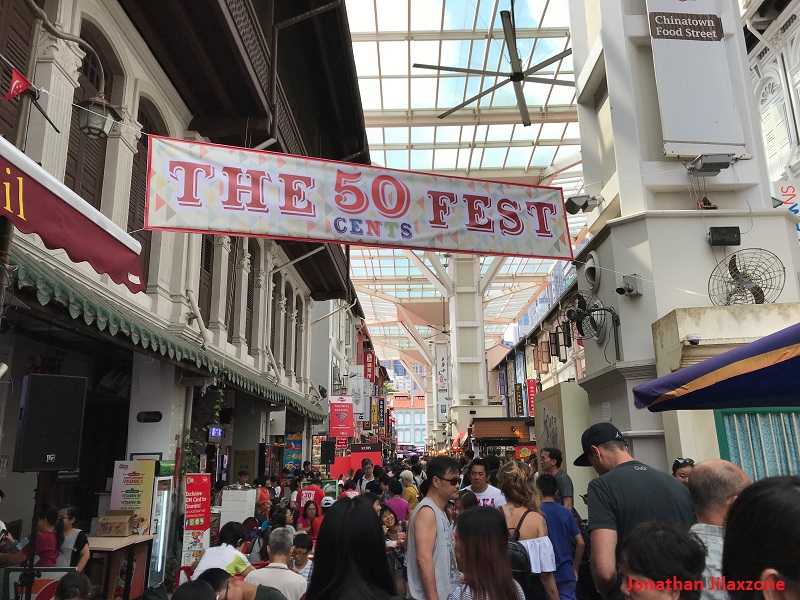 For sure, there will be the same event next year. Just mark your calendar on July next year. Cheers!
---
For Life & Tech tips, iOS & Android Apps and Games quick review, do visit below:
---
Hi, thanks for reading my article. I do spend my time and efforts writing this article based on my own experiences for my own journal as well as to share the knowledge to whoever read it so hopefully they can get the benefit out of it
If you find and feel this article is good and helping you in anyway, help me to spread the words by sharing this article to your family, friends, acquaintances so all this goodness, my spent time and efforts do not just stop at you, they will also get the same goodness and benefit from it.
Thank you!