Do this one thing before selling your Microsoft Surface Computers and Windows PC Laptop / Desktop
Thinking of selling your Microsoft Surface tablet / laptop or any Windows 10 PC – be it laptop or desktop? Well, ensure to remove your sensitive data before selling them off. And don't do the old time method!
Learn how to remove your sensitive data easily from Surface and other Windows 10 devices.
For other interesting articles related to gaming, check it out here Surface, Windows, Tech, or more at JILAXZONE.
In the past, selling Computer that has your (sensitive) data on it is a pain in the arse. To totally remove your data and trace, you need to uninstall the software one by one and delete your files and folders one by one, this is to preserve the Windows from being re-installed (mainly because you lost your activation key) or alternatively you can re-install the Windows. Whichever options you took, it's troublesome and time consuming.
Good thing is now Microsoft has made Windows to behave more like a smartphone, in this case on the reset portion. You don't need to erase your hard disk manually to clean existing data. Manually as in you don't need to delete your software one by one or deleting your files and folders individually by yourself or re-installing the Windows. Microsoft has baked Reset to Factory settings feature in Windows 10 so you can easily wipe out any contents from your Surface computer without wiping out the OS, so you don't need to re-install the Windows.
---
Here's how you can Reset to factory settings in Surface or any Windows 10 PC
This method works for any Surface devices and other PCs, Tablets and everything running on Windows 10.
Attention!

Ensure you have backup your important files into somewhere outside the Computer drives (E.g.: Cloud, external hard drives) before proceeding with the steps.
1) Go to Start (Windows logo) then Settings.
2) Select "Update and Security".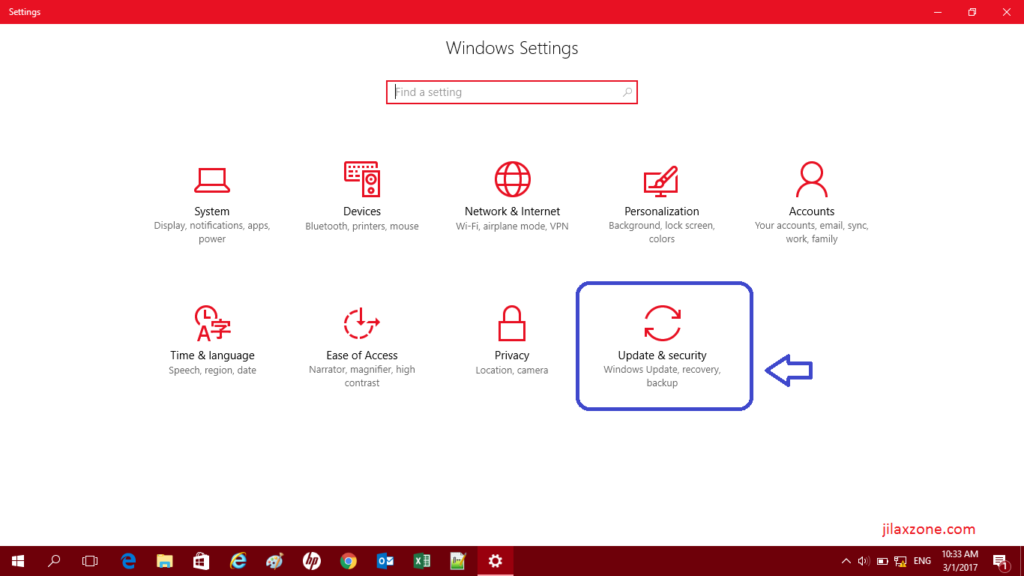 3) Find and click on "Recovery".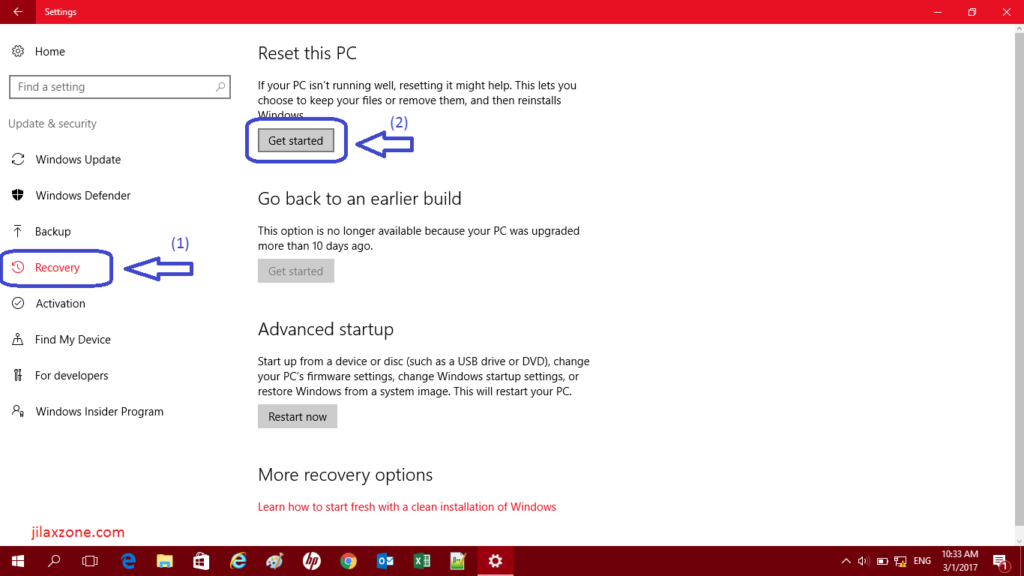 4) Under Reset This PC, click "Get Started" button.
5) When prompted, choose "Remove everything".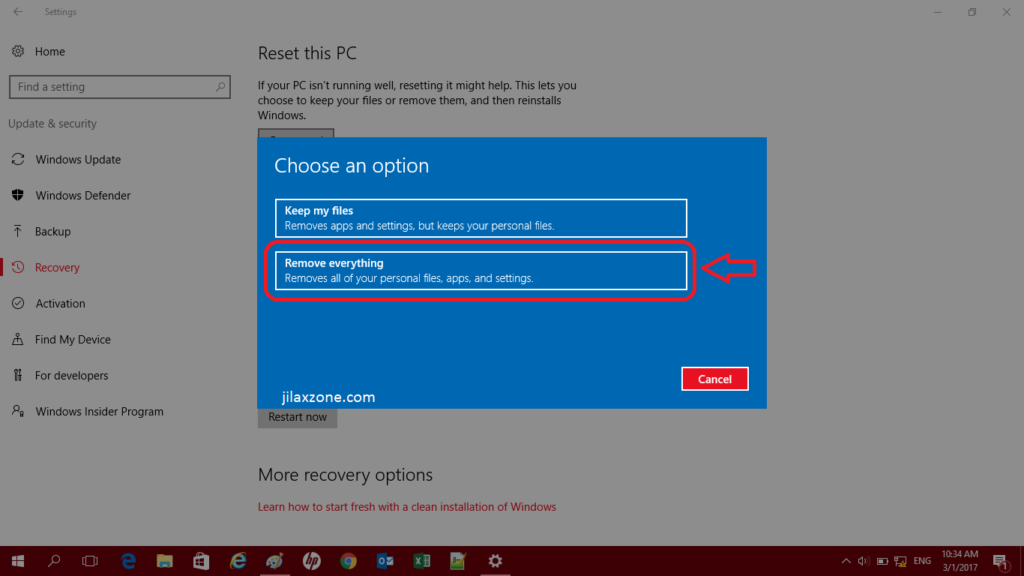 6) Next step is to select "Remove files and clean the drive".
7) Then select "All Drive" to remove all files and clean all drives.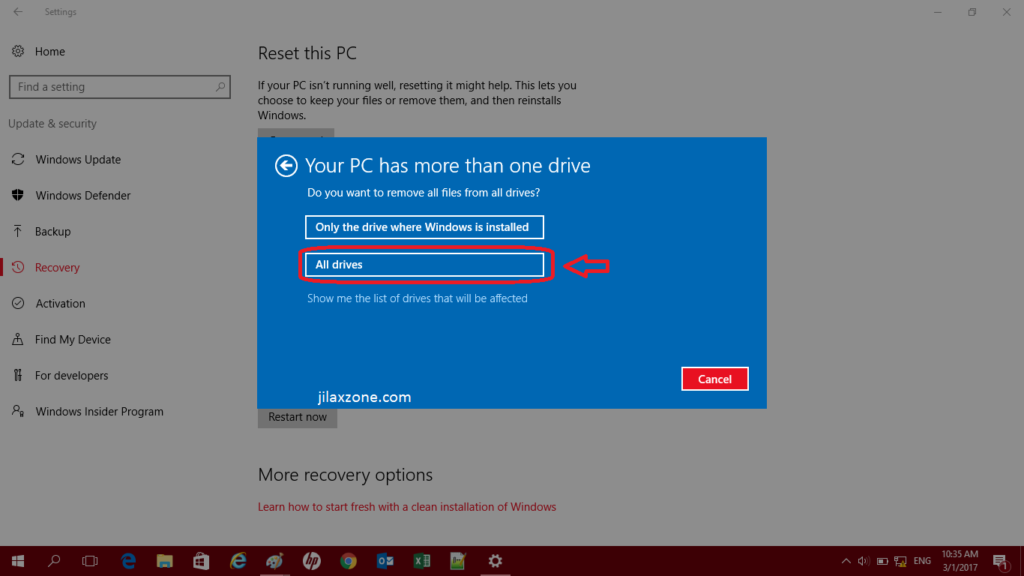 8) Windows shows warning. Click "Next" button to proceed.
9) When you are ready, click "Reset" button to reset Windows 10 back to its factory settings.
Done. All you need to do now is just wait for the process to finish.
---
Bring it all together
The Reset to Factory Settings is a nice addition to Windows 10. You don't need to spend hours just to clean your Computer before selling it off. All it takes is about 5-15 minutes (depending on how big is your Drives capacity) to remove all your data from the Computer.
---
Do you have anything you want me to cover on my next article? Write them down on the comment section down below.
Alternatively, find more interesting topics on JILAXZONE:
JILAXZONE – Jon's Interesting Life & Amazing eXperience ZONE.
---
Hi, thanks for reading my curated article. Since you are here and if you find this article is good and helping you in anyway, help me to spread the words by sharing this article to your family, friends, acquaintances so the benefits do not just stop at you, they will also get the same goodness and benefit from it.
Or if you wish, you can also buy me a coffee: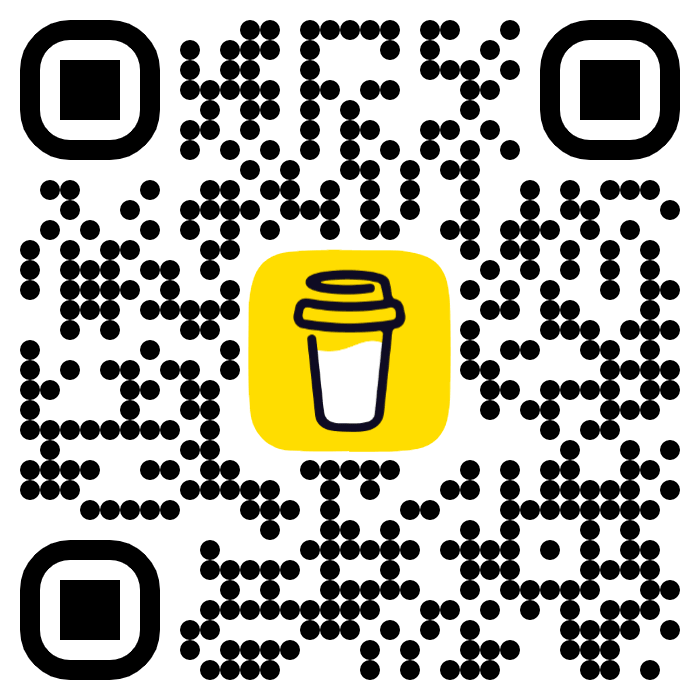 Thank you!
Live to Share. Share to Live. This blog is my life-long term project, for me to share my experiences and knowledge to the world which hopefully can be fruitful to those who read them and in the end hoping to become my life-long (passive) income.
My apologies. If you see ads appearing on this site and getting annoyed or disturb by them. As much as I want to share everything for free, unfortunately the domain and hosting used to host all these articles are not free. That's the reason I need the ads running to offset the cost. While I won't force you to see the ads, but it will be great and helpful if you are willing to turn off the ad-blocker while seeing this site.