Life hack: Type Faster on iPhone by Swiping
Are you typing on iPhone fast enough? How fast and accurate are you when typing on iPhone?
Do you know that on iPhone you can install additional keyboard, on top of your current Apple built-in keyboard?
3rd Party Keyboard on iOS
In case you don't know yet, since iOS 8 (somewhere around 2014), Apple has open its iOS platform to be able to install 3rd party keyboard on its iPhone and all other iDevices (iPad and iPod Touch), and starting iOS 8, many developers are bringing their 3rd party keyboard that mostly last time only available on Android to iOS.
Swipe the Letters
Now with the ability of installing 3rd party keyboard, there's a way for you to type even faster than before on your iPhone and iDevices and it's not auto-correct, it's by swiping. Here's the video to show you the idea – check the video timeline between 0.50 to 0.52:
---
For more iPhone & Android FREE APPS or FREE GAMES, visit:
https://jilaxzone.com
---
What is Text Swiping
Swiping is basically putting your finger on the one of the letter on the keyboard and depends on what you are going to type, swipe across the keyboard without lifting off your finger out of it. Say you want to type 'amazing', put your finger on the letter 'A' then swipe across 'M', back to 'A', then go to 'Z', swipe to 'I' then 'N' then 'G', then lift off your finger. Ta-da! You just made your first swipe typing. The good thing is that, you don't need to be 100% precise when swiping between the letter, as long as you are not deviating too much, most of the keyboard will then auto-correct the wording you try to swipe.
FREE Text Swiping Keyboard Apps
Here are 2 keyboard apps that I personally use and recommend which can do text swiping and FREE – you don't need to pay anything to use it:
1. Gboard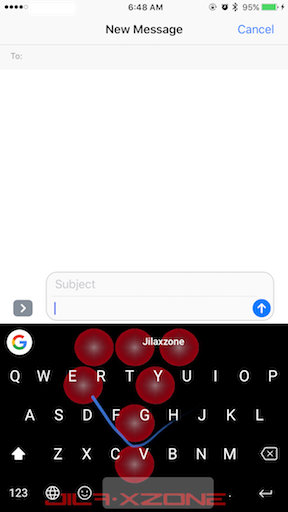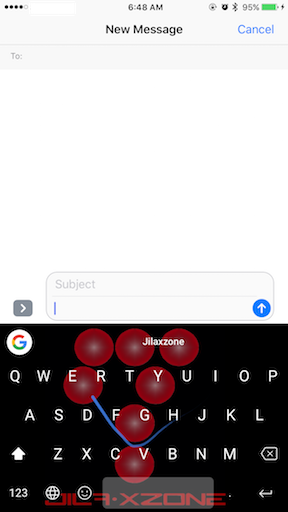 It's a keyboard from Google. Its swiping feature is called 'Glide Typing'. This is my favorite keyboard now.
| | |
| --- | --- |
| Advantages | Disadvantages |
| + Swiping text called 'Glide Typing' | – not linked to account, next time changing phone, need to start learn from beginning |
| + can do Google search directly without switching between apps | – not able to remember (and store) string of number such as your phone number |
| + Now support themes, can use own image as background | |
Download Gboard here:
| | |
| --- | --- |
| Download Link |   |
| QR Code |   |
| Alternative Link |  iOS link |
2. SwiftKey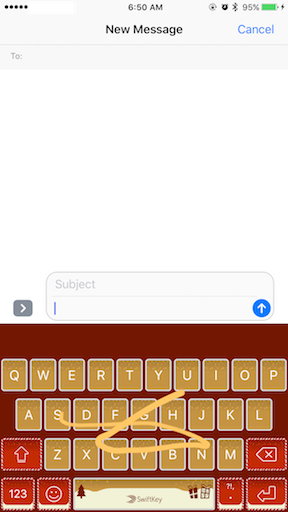 SwiftKey, recently bought by Microsoft (2016), is one of the pioneer in text swiping. Its swiping feature is called 'flow'. This used to be my favorite keyboard.
| | |
| --- | --- |
| Advantages | Disadvantages |
| + Swiping text called 'SwiftKey Flow' | – Most of the themes is payable |
| + Link to account, so when you switch phone/platform, all the existing patterns/data goes with your account | |
| + Able to remember string of numbers such as your phone number | |
| + Support themes | |
Download SwiftKey here:
| | |
| --- | --- |
| Download Link |   |
| QR Code |   |
| Alternative Link |  iOS link |
The Verdict
Life is so much easier and simpler with text swiping from these 3rd party keyboard. If you read this far and haven't tried any of them before, why don't you give them a try. They are FREE and I can guarantee you may never really one to remember life before these text swiping from 3rd party keyboards. Awesome!
---
For list and/or quick review of iOS & Android FREE APPS, FREE GAMES and/or FREE tips & tricks and latest iOS & Android news, visit below:
---