[FREE APP] Google Keep – Keep All Your Important Lists, Notes and Reminders
You just popped up a rather brilliant idea for your next business venture or a solution to your issues at work, but unfortunately if you are like me, that idea most likely won't last in the next 5 minutes on your head. Next time you try to remember it, either you remember half portion of it only or worst case, nothing at all. And that's where you need app like Google Keep, where it helps you keep all your personal lists, notes, idea and whatever that is, you name it.
What is Google Keep?
Like its name suggesting, its an app, made by Google for what is worth, to keep all your lists and notes and even able to create reminder. So the next time you pop up an idea, a solution, or simply groceries to buy this coming weekend, you can quickly note it down and keep it safe on the app. The next time you need it, you just simply open the app and find the relevant notes.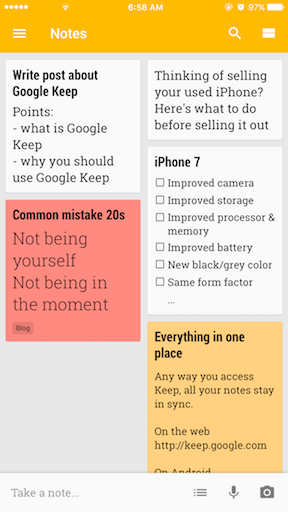 ---
For more iPhone & Android FREE APPS or FREE GAMES, visit:
https://jilaxzone.com
---
Why Google Keep?
From the so many apps and tools out there to take notes, create list and make reminder, why Google Keep?
These are the advantages of using Google Keep compared to other similar apps with similar functionality:
1. Multi-Platform
Google Keep is available in multi platform: the web, Android, iOS, chrome extension. So you can switch easily between the platforms be it at home, at work or on mobile hassle-FREE.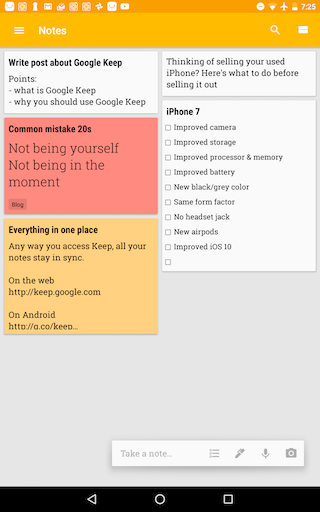 2. Share with others
Google Keep lists, notes and reminders are able to be shared to other peoples. They can update or check off items in real time. Here is one good example, you and the whole family are going to Supermarket to buy stuffs and groceries. With Google Keep, you can share the list items to buy with the rest of family members, split the team, and everyone can see in real time every time someone pick the item and check it off from the list. Cool and make shopping to be super fast!
3. Location based reminder or Time based reminder
With Google Keep you can set time based reminder (normal feature of any reminder app) or set a location based reminder (awesome!). The latter feature will get you a reminder once you reach certain area, so you won't forget about it.
4. Totally FREE
Google Keep is totally FREE. There is no limitation in the numbers of notes/lists/reminders you can create. Most importantly, compared to its closest competitor – Evernote, Google Keep doesn't limit the number of devices you can connect and sync. To say it in a more simple term, assuming you have 10 phones with you with Google Keep installed on each of them, 3 Macs and 2 PCs with browser capability, they work and sync-ed your Google Keep data for FREE.
5. Can be used while offline
Google Keep doesn't need to be always online. When someone you are disconnected from the internet, you can still create, update the notes/reminders, they will get sync the next time you are online.
Where to Download Google Keep?
What are you waiting for? It's FREE. For Android and iOS, download links below.
| | | |
| --- | --- | --- |
| | iOS / iPhone | Android |
| Price | FREE | FREE |
| OS | iOS 8 & up | Android 2.3 (GingerBread) & up |
| Internet Connection Required | Yes | Yes |
| Download Link |   |   |
| QR Code |   |   |
| Alternative Link |  iOS link |  Android link |
The Verdict
Create, edit, save your ideas, shopping lists, groceries, reminders, anything that matters to you in one place with Google Keep. Share those ideas, lists, reminders with people that are matters to you as well. All for FREE.
---
For list and/or quick review of iOS & Android FREE APPS, FREE GAMES and/or FREE tips & tricks and latest iOS & Android news, visit below:
---