I Decided to Sell my Bitcoin but Willing to Buy Again Soon
Yesterday Bitcoin price against USD was kept increasing like there's no tomorrow. Surpassing few thousand dollars easily within minutes – if not seconds.
I made a pledge to myself yesterday, if it can reach S$20,000 (about US$14,700) then I will sell my Bitcoin.
And as you guys know, yesterday was history, Bitcoin not only reached S$20,000 (~US$14,700), but it surpassed until S$26,000 (US$19,200) – as you can see on the Coinbase price chart below – making one of the largest Bitcoin exchange – Coinbase – down (see my
post here
telling Coinbase is down).
So yeah I did manage to sell my Bitcoin at around S$20,000-ish per coin.
I gained 100%++ returns Investing in Bitcoin (BTC)
First thing first, don't get it wrong. I am not that rich. I didn't have 1 coin of Bitcoin, in fact I had only a fraction of Bitcoin, and it was like 0.005 BTC – which cost me S$52 (~US$39) last time when I bought at around S$8,500-ish per coin somewhere October.
On October 2017, I decided to finally buy Bitcoin to join the game and the ride and also due to my curiosity on Bitcoin – which I failed to buy on 2015 when it was only US$500-ish during Mt.Gox era -, however with only small amount due to high uncertainty surrounding the Bitcoin, especially since it was reached all time high record price at that time and everybody kept saying (even until today) that Bitcoin is a bubble waiting to burst.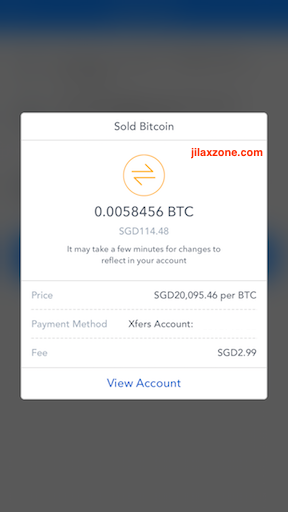 Fast forward to December 7, 2017, Bitcoin reached S$20,000 (~US$14,700) and at some point reached S$26,000 (~US$19,200). I sold my 0.005 BTC that I bought for S$52 last time for S$114-ish after fees deduction here and there. So all in all my Bitcoin purchase is increasing 100%++ within less than 2 months. AWESOME!
---
Find other awesome articles, tips, tricks related to Life and Tech, iOS & Android quick review on:
---
Lesson Learned From Bitcoin (BTC)
Despite many people saying bad about Bitcoin – things like it's a bubble waiting to burst, it's a scam, <whatever that is>, but the reality is that more and more people start getting and gaining their interest on Bitcoin and that is good. More people getting interested and end up buying, the merrier.
And I have proved it myself when I bought and sold it and enjoy being part of the Bitcoin ride.
Point is don't keep speculating and don't be so negative about new things. If you really curious about it, rather than always end up with mouth full of water then try to be in the game and join the ride.
You don't need to invest thousands, you can – just like me – invest in small amount and see where it goes. Who knows you are the next Millionaires?
Do note: investing in Bitcoin carries a high risk. You may – at some point – lose all your initial capital. Play small, play safe. Small risk small gain small lose. Big risk big gain big lose. You choose.
---
Disclaimer: This is not an invitation. This is also not a sponsored post. I will not get anything if in the end you sign up and use their service. This article is just to show you how easy you can invest into Bitcoin and other altcoins without the hassle and being a geek. In case you decide to invest, do at your own risk.
Under no circumstances will I be held responsible or liable in any way for any claims, damages, losses, expenses, costs or liabilities whatsoever (including, without limitation, any direct or indirect damages for loss of profits, business interruption or loss of information) resulting or arising directly or indirectly from the use of this article and its contents.
---
Where to Start your own Bitcoin Journey?
Should you choose to join the Bitcoin ride, and looking for the easiest way to buy and sell Bitcoin, do check my article for detailed step by step from registering account till buying the Bitcoin here at Medium.com.
---
For Life & Tech tips, iOS & Android Apps and Games quick review, do visit below:
---
​Hi, thanks for reading my article. I do spend my time and efforts writing this article based on my own experiences for my own journal as well as to share the knowledge to whoever read it so hopefully they can get the benefit out of it
If you find and feel this article is good and helping you in anyway, help me to spread the words by sharing this article to your family, friends, acquaintances so all this goodness, my spent time and efforts do not just stop at you, they will also get the same goodness and benefit from it.
Thank you!