Here's how to use Loop, Bounce and Long Exposure in Live Photo on iOS 15
Loop, Bounce, Long Exposure and Live Photo itself were introduced back in iOS 11. Apple called them (Loop, Bounce and Long Exposure) as Live Photo effects. For the benefit of those who just hear and know these Live Photo features for the first time, here are some explanation of Live Photo effects.
| Live Photo effect | Description |
| --- | --- |
| Loop | Turn Live Photo into repeated action in a continuous looping video. |
| Bounce | Turn Live Photo by rewinding the action backward and forward. |
| Long Exposure | Turn Live Photo to simulate a DSLR-like long exposure effect by blurring motion. |
This article detailed the steps how you can use Live Photo effects feature on iOS 15 to convert your Live Photo into Loop, Bounce or Long Exposure Photo.
Although on the steps are mentioning iPhone or iOS 15, but the same steps are applicable for iPod Touch, iPad and iPadOS 15.
For other interesting articles, head to:  iOS Tip & Trick, Games, FREE games & stuffs, how-to and more at JILAXZONE.
If you find this article / content inside is already obsolete, do let me know by commenting on the comment section below so that I can update the article to reflect the latest process/news. Thanks.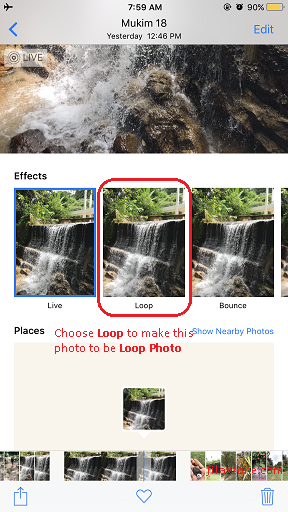 Back in previous iOS (iOS 11 until iOS 14), you can use these Live Photo effects just by swiping up your Live Photo inside Photos app. But unfortunately, starting with iOS 15, Apple changed the way you can use these Live Photo effects. If you are on iOS 15 and swiping up your Live Photo inside Photos app, what you get is the metadata of the photo instead, such as the camera used to take the photo and the location and time where and when the photo is taken. So how to access Live Photo effects: Loop, Bounce and Long Exposure? Here's how you can access them.
---
Here's how to use Live Photo effects on iOS 15 and turn your Live Photo into Loop, Bounce or Long Exposure photo
1) On your iPhone, open Photos app.
2) Select one of the Live photo you would like to add effect.
3) Instead of swiping up (this was the practice back in iOS 14 or before), tap on the "LIVE" icon located on the top right of the Live photo.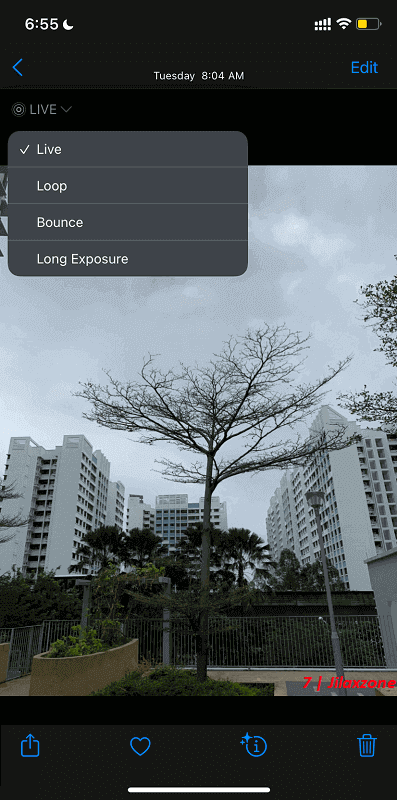 4) You should be able to see the choices between: Live, Loop, Bounce and Long Exposure. Select the effect you would like to apply to your Live photo.
Voila! You just managed to add effect to your Live photo, be it loop, bounce or long exposure. Repeat the steps for other Live photos.
---
Bring it all together
For better or worse, love or hate it, that's how now you can apply Live Photo effects in iOS 15. The most important thing is that Apple didn't remove the Live Photo feature, Apple just moved the way you access it somewhere else.
For other Live Photo tips and tricks, check out this: iOS Live Photo Tips & Tricks at JILAXZONE.
---
Do you have anything you want me to cover on my next article? Write them down on the comment section down below.
Alternatively, find more interesting topics on JILAXZONE:
JILAXZONE – Jon's Interesting Life & Amazing eXperience ZONE.
---
Hi, thanks for reading my curated article. Since you are here and if you find this article is good and helping you in anyway, help me to spread the words by sharing this article to your family, friends, acquaintances so the benefits do not just stop at you, they will also get the same goodness and benefit from it.
Or if you wish, you can also buy me a coffee: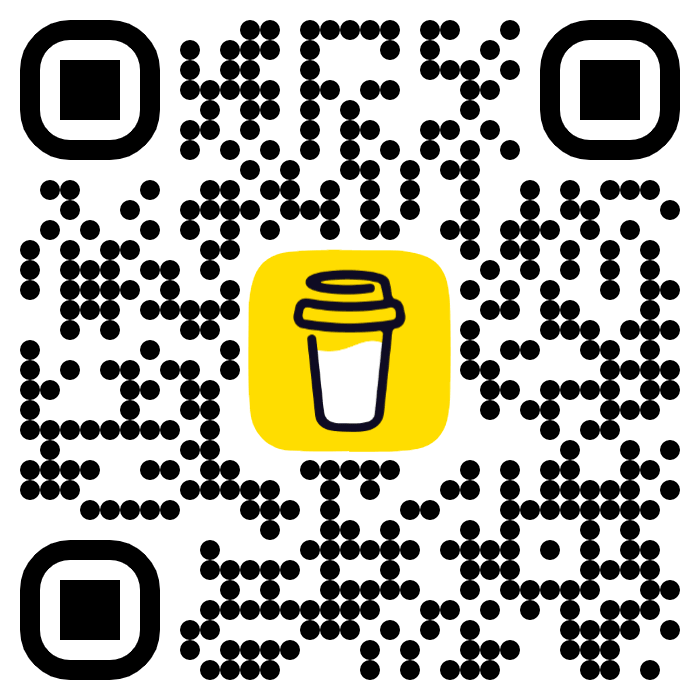 Thank you!
Live to Share. Share to Live. This blog is my life-long term project, for me to share my experiences and knowledge to the world which hopefully can be fruitful to those who read them and in the end hoping to become my life-long (passive) income.
My apologies. If you see ads appearing on this site and getting annoyed or disturb by them. As much as I want to share everything for free, unfortunately the domain and hosting used to host all these articles are not free. That's the reason I need the ads running to offset the cost. While I won't force you to see the ads, but it will be great and helpful if you are willing to turn off the ad-blocker while seeing this site.