Getting Healthy is so rewarding with National Steps Challenge Season 5! FREE $85 to grab!
Life is so amazing, isn't it? Getting paid for being healthy!
National Steps Challenge Season 5 is back!
In case you don't know what it is, let me explain it to you. Health Promotion Board (aka HPB – A Singapore government body which takes care of National Health) is coming with a programme, now for the fifth time for every Singapore residents – Citizens, Permanent Residents and everyone with valid NRIC/FIN number and at least 17-year-old – to get healthier with these of simple tasks: walk, exercise, repeat. Thus the name National Steps Challenge. And for those who are wondering, this programme is totally FREE! All you need is to jump in and join in with few simple steps I shall explain below.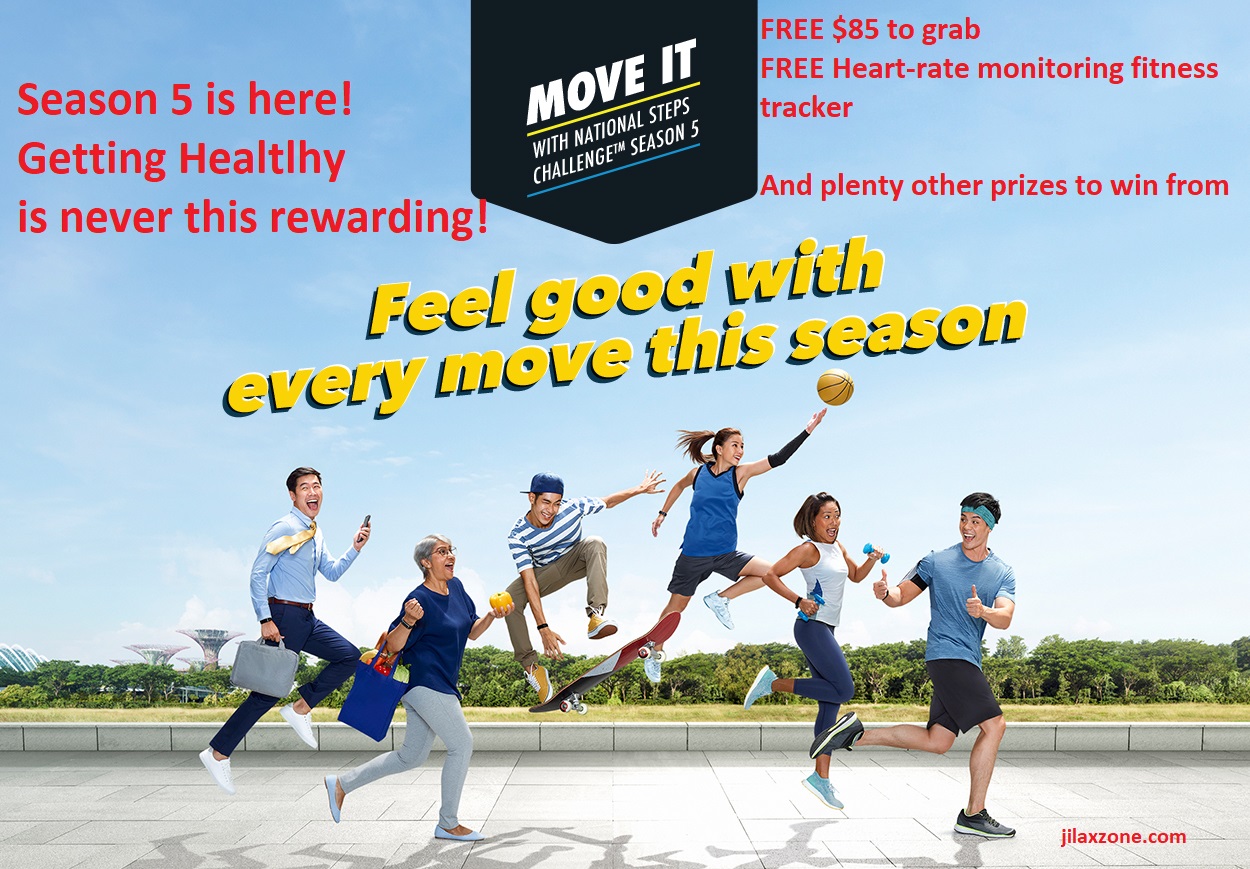 FREE SURE-WIN $85 for everyone who participates!
Yes, you read it right. HPB is giving away FREE $85 in total when you complete all tasks and tiers in National Steps Challenge Season 5.
Here are the tasks and tiers.
Task 1: Walk 10,000 steps a day
These are the prizes to win.
| Tier | Total Healthpoints | Rewards |
| --- | --- | --- |
| 1 | 750 | $5 |
| 2 | 1500 | $10 |
| 3 | 750 | $5 |
| 4 | 750 | $5 |
| 5 | 750 | $5 |
| 6 | 750 | $5 |
To win the prizes, simply walk 10,000 steps a day to earn healthpoints. When you have enough healthpoints, the tier gets unlocked and you win the dollar prize.
| Steps | Daily Healthpoints |
| --- | --- |
| 5,000 – 7,499 | 10 |
| 7,500 – 9,999 | 25 |
| 10,000 and more | 40 (max) |
Task 2: Do MVPA
MVPA is short for Moderate to Vigorous Physical Activities. In short, this task is related to raising your heart rates by doing physical activities, such as walk, do sports, do houseworks, cycling or anything else that is raising the heart rates. Raised heart rates not only make you healthier but also promotes your well-being and reducing chances of getting diseases around and related to hearts, such as high blood pressure, heart disease and stroke.
| Tier | Total Healthpoints | Rewards |
| --- | --- | --- |
| 1 | 750 | $5 |
| 2 | 750 | $5 |
| 3 | 1500 | $10 |
| 4 | 1500 | $10 |
| 5 | 1500 | $10 |
| 6 | 1500 | $10 |
To win the prizes, simply walk do MVPA according to the table below. When you have enough healthpoints, the tier gets unlocked and you win the dollar prize.
| MVPA Duration | Daily Healthpoints |
| --- | --- |
| 10 – 19 minutes | 10 |
| 20 – 29 minutes | 25 |
| 30 minutes and more | 40 (max) |
So at the end of the season, if you manage to complete everything – both the walk 10,000 steps task and do MVPA task, you'll get literally FREE $85 doing nothing but stay healthy! How awesome that is!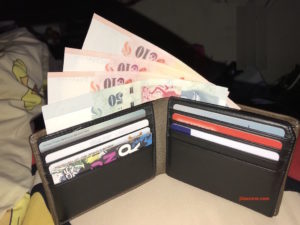 Do check here for other present and past Singapore news and lobangs you missed or may have missed before.
How to participate & get the FREE SURE-WIN $85?
All you need to do is to make yourself ready to walk and do a little bit exercise, a smartphone, a smart fitness tracker, and Healthy 365 app. Here are the details.
1. Download and install the Healthy 365 app.
In case the app is not appearing when you click download link below and/or unable to search for it, make sure you are using Apple ID for Singapore region or Google Play Store account for Singapore region.
If you do search for yourself, make sure you select the correct app and not any wrong or malware app. The right Healthy 365 app icon is like this (below picture) and is made by Health Promotion Board.
In case you worry or lazy, just tap on the download link below.
| | iOS / iPhone | Android |
| --- | --- | --- |
| | iOS / iPhone | Android |
| Price | FREE | FREE |
| OS | iOS 8 & up | Android 4.3 (JellyBean) & up |
| Internet Connection Required | Yes | Yes |
| Download link | iOS link | Android link |
Do install and open the app. Agree to the app terms and conditions.
When prompted for access to device's location, you can choose either allow or deny.
2. Register yourself to National Steps Challenge via the app.
On the app, go to Profile menu. If this is really your first time, do fill in all the necessary details and click on "Save".
If you created a Profile before, you can restore your profile by tapping "Restore Profile".
3. Choose your fitness tracker
You can use any fitness tracker you have with you. Be it just a normal smart steps tracker (eg: Fitbit, Xiaomi Mi Bands), or smart fitness tracker (Eg: Apple Watch, Samsung Gear Watch), or HPB Issued trackers. So, it is NOT a must to use HPB issued-trackers.
List of fitness tracker which compatible:
– Any HPB issued fitness tracker (for complete list of HPB issued trackers, open the app, go to Apps Menu)
– Any Google Fit compatible tracker (if you are using Android)
– Any Apple HealthKit compatible tracker (if you are using iOS)
– Any Samsung SHealth compatible tracker (if you are using Samsung device)
– Actxa
– FitBit
– Your Phone (worst case :p)
They may add more fitness trackers in the future, do check inside the Healthy 365 app, Apps Menu for the most updated list.
If you are on budget and currently doesn't have/use any fitness tracker with you, don't worry. You can still use your phone as your fitness tracker – since most modern phones are equipped with accelerometer which can be used to track your steps – not as accurate as the real fitness tracker but it does the job.
To maximize your SURE-WIN rewards, do make sure you are not just using smart steps tracker, but smart fitness tracker – those with the capability to record your heart rate.
Article continues below.
---
Popular on JILAXZONE today:
---
4. Configure the fitness tracker
Once you get your hands on the fitness tracker, next is to configure the fitness tracker, sync it with Healthy 365 app. On the Healthy 365 app, go to App menu. If you can't find it, scroll the bottom menu by tapping the right arrow sign.
Choose one of the options – depends on your fitness tracker. Whenever prompted, agree to the terms and conditions or tap ok/confirm.
For me, since my primary device is iPhone and currently I'm using Apple Watch, thus I select HealthKit, since Apple Watch is compatible with HealthKit.
5. Accept the challenge
Go to Challenges Menu, find National Steps Challenge Season 5 – Sign up.Tap on it and choose I consent to start the challenges.
6. Take the action.
Start walking! As simple as that.
Just do your normal activities such as going to work, wash that dishes, do the chores. If doing your normal activities don't get you enough steps, do extra exercises or switch to alternatives, such as take staircases for going up or down instead of taking escalator or lift or other way is if your home is just walking distance, do consider to walk back home and skip the bus.
7. Don't forget to sync your steps
Before going to sleep, at the end of the day good if you can open the Healthy 365 app and sync it daily. In case if you are lazy to sync it each and every day or forgot to sync it in one of those days, you can sync it once a week but try to be not more than a week. Certain fitness tracker can only remember the past 7 days activities.
By right, just opening the app will sync your steps automatically from the fitness tracker. However in case you are not seeing your progress getting synced, here's to sync the steps to Healthy 365 app manually.
To sync the steps manually to Healthy 365 app do the following:
a. Open the Healthy 365 app.
b. Go to Dashboard Menu.
c. If you see 'X' number of kcal burnt, 'X' number of kcal consumed, slide the screen from right to left until you see the screen like shown above (see image above), showing 'N' number of steps with a big circle around it.
d. Tap on the green colored icon (fitness tracker icon) located on the top right of the screen (see image above) to start sync it manually.
e. Wait until it sync successfully.
Voila! Now you managed to sync your steps manually. You only need to do this in case the app is not automatically sync the steps for you.
National Steps Challenge Season 5 Period
Start date: Saturday 26th October 2019.
End date: Thursday 30th April 2020.
For Singaporean and Singapore Permanent Residents: FREE Fitness Tracker for you!
On top of the SURE-WIN $85 and other interesting rewards, if you are Singaporean or Singapore Permanent Residents and either never join National Steps Challenge before or didn't collect heart-rate monitoring fitness tracker during Season 4, you are eligible to collect a FREE Heart-rate monitoring Fitness Tracker on National Steps Challenge Season 5.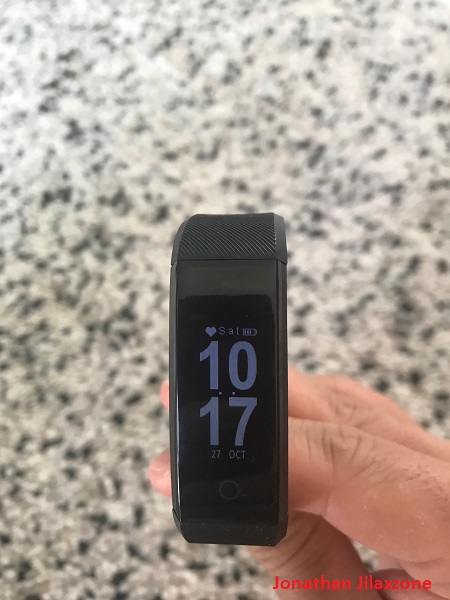 There are 2 ways to collect the FREE Fitness Tracker:
1) Come to HPB Roadshow
Take a look at HPB official website here for the schedule of HPB Roadshow, however do note that they may change without prior notice. The best way is to check HPB official Facebook page here before coming over for the events and roadshows.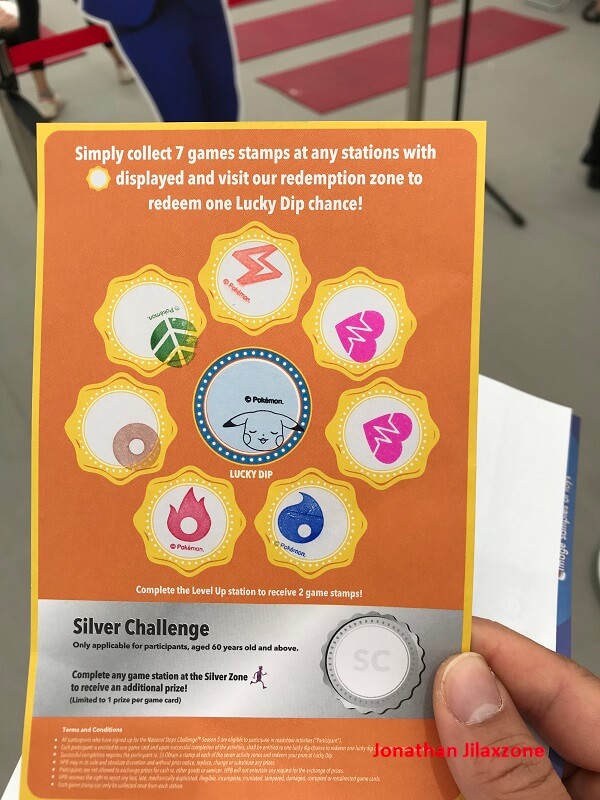 If you are totally new participants, means you never really join all 4 previous seasons before, you can just go to any events and roadshows mentioned above to register and collect your FREE heart-rate monitoring fitness tracker.
2) Collect at 7-ELEVEN
The roadshows for sure are going to be jam-packed with people. In case you want something less-hassle, doesn't want to queue that long, the alternative to collect the FREE heart-rate monitoring fitness tracker is via 7-ELEVEN. But first you have to make appointment.
Here's the link to show you the step by step to make your appointment.
Don't wait! Join now for FREE!
Apart from the National Steps Challenge Season 5, there are also other challenges which you can compete on. Isn't it all great, getting paid for our own health? Be sure to join this programme!
In case you have queries, do post them on the comment section below. Cheers!
---
Do you have anything you want me to cover on my next article? Write them down on the comment section down below.
Alternatively, find more interesting topics on JILAXZONE:
JILAXZONE – Jon's Interesting Life & Amazing eXperience ZONE.
---
Hi, thanks for reading my curated article. Since you are here and if you find this article is good and helping you in anyway, help me to spread the words by sharing this article to your family, friends, acquaintances so the benefits do not just stop at you, they will also get the same goodness and benefit from it.
Or if you wish, you can also buy me a coffee: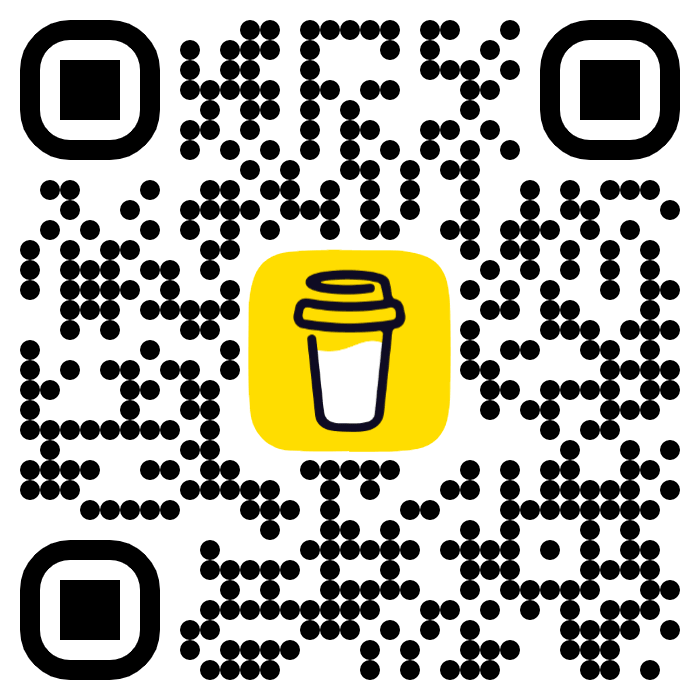 Thank you!
Live to Share. Share to Live. This blog is my life-long term project, for me to share my experiences and knowledge to the world which hopefully can be fruitful to those who read them and in the end hoping to become my life-long (passive) income.
My apologies. If you see ads appearing on this site and getting annoyed or disturb by them. As much as I want to share everything for free, unfortunately the domain and hosting used to host all these articles are not free. That's the reason I need the ads running to offset the cost. While I won't force you to see the ads, but it will be great and helpful if you are willing to turn off the ad-blocker while seeing this site.